WASHINGTON — A leaked recording of President Trump suggesting using military force on North Korea "like a bitch" was released anonymously late Monday evening, the Hard Times has learned.
The audio revealed a private conversation between Mr. Trump and conservative host Sean Hannity on a Fox News bus in April of this year. "Kim Jong… Kim… Rocketman and North Korea. We're going to move on them like a bitch," Trump said.
White House Press Secretary Sarah Huckabee Sanders responded to questions about the tape this morning.
"I think that should be more than obvious. I think you can figure it out," Sanders told New York Times reporter Natan Keyes when he asked for clarification. "I think the bigger question is why Hillary Clinton didn't move on Benghazi like a bitch when she had the chance. They let you do that when you're Secretary of State."
Americans are largely outraged.
Related:
"Well, fuck! Jesus Christ, fuck. [Trump] is going to get us all killed," said Justin Maillet of Somerville, Mass. "I need to reconnect with my buddy, Tom. He built a fallout shelter in the woods back in high school. I hope I can ride this out."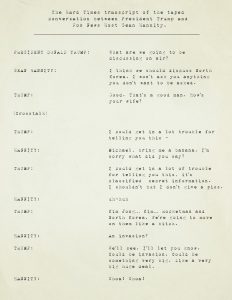 However, some Americans support the President's comments, including actor Scott Baio, who posted on Facebook praising the tape. "It's about time we stand up to this nation of foreigners," the statement read. "Whether the President is talking about military action or metaphorical sexual assault of the Democratic People's Republic of Korea, I stand behind him."
Trump slammed the media via an early morning Twitter rant for releasing the tape, at one point accusing the Obama administration of wiretapping the Fox News bus.
The tape is only the latest recording to dog President Trump, still under fire from last week's revelation that, while on campaign, Trump privately referred to eskimos as "snow-eating f*****s."