[bandcamp width=100% height=42 album=4022394178 size=small bgcol=ffffff linkcol=2ebd35 track=3403585729]
PORTLAND, Ore. — Deafheaven's bassist, Stephen Clark, was lulled to sleep in the middle of his band's Red Bull Sound Select show in Portland last night. Some might think this would be cause for teasing, but critics are already raving that Clark slept through Deafheaven's ambient shoegaze black-metal bullshit perfectly.
"It was a flawless performance. Just absolutely flawless. These guys are creating a new genre," one critic wrote on his Pitchfork worship blog. "When he started snoring I knew I was witnessing the best set of the year."
And he wasn't the only critic out there who enjoyed the set.
"They are just so dark. I've never seen anything like it. I can't even wrap my head around how they get so dark," another critic wrote before concluding that the band must put something in their wash.
Clark explained his predicament to reporters outside the show.

"I was standing there, laying down the bass line for 'Vertigo' when I felt this warm calmness wash over my body. It was like I was all wrapped up in one of our signature Deafheaven Blankets©, being gently rocked from side to side," he said. "It was so cozy that I thought I'd just close my eyes for a second."
The next thing Clark remembers is Deafheaven guitarist Kerry McCoy kicking him in the ass and yelling "this isn't fucking funny" while the band attempted to finish the song. "I was tired, too, but I would never fall asleep on stage," said McCoy. "This isn't a fucking joke. Everyone was laughing. It's not a joke. It's not fucking funny. We're creating a new genre."
Deafheaven is no stranger to controversy. After cancelling a tour due to lost luggage containing all of their black clothes, the band had their rider leaked to the public with it stating that each band member requires three lint rollers before taking the stage. A picture of the vocalist, George Clarke, also went viral several months ago when he too was accused of falling asleep mid-performance.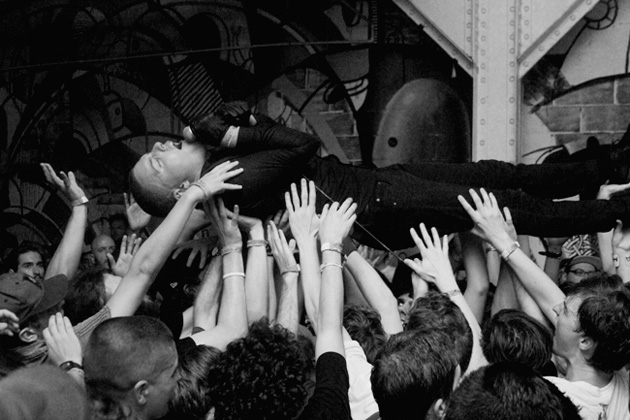 The Hard Times reached out to the Deafheaven vocalist for comment but his response was too low in the mix for us to understand.
Article by Josh Fernandez. Photos by Lukas Hodge.