SPRING HILL, Mo. — Local roommate Brad Windsor returned home today with a fresh tattoo despite claims of being "completely broke," according to reports from his upset roommates.
The revelation came during a routine discussion about finances for the apartment Windsor shares with four others.
"I saw some plastic wrap on his arm, and sure enough, he has another goddamn tattoo," said roommate Marcia Ramos. "Tattoos aren't cheap. He hasn't paid me for internet in over three months because he's 'barely scraping by.' It'd be cool if he could pay his part of the rent with the Instagram likes he got for the tattoo, but our landlord still prefers a check and actual currency."
Sources confirmed Windsor has long put his financial responsibilities last on his list of priorities.
"When I lived with him, he was really into exotic pets," said Phil Mesic, who shared a two-bedroom with Windsor for over six months. "He'd never pay for any utilities or food, but he had this terrarium with a bearded dragon that he only fed imported crickets. The energy bill went down $75 when he moved out, because we weren't paying to power 16 different heat rocks."
Records show that, in the nine months of living in his current home, Windsor has accrued over five full months of debt for rent, utilities and food. Making matters worse, Windsor's hubris has allegedly only grown with his new tattoos as his finances dwindle.
Related:
"My boy gave me a great deal on this one," said Windsor, gesturing at his fresh tattoo of Kurt Russell as Snake Plissken in a traditional Sacred Heart. "Tattoos are an investment; I feel like a lot of people don't realize that. If I live to be 100, I basically only paid $.02/day to have this sick art on me all my adult life."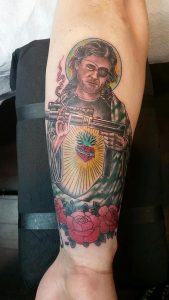 Mike Clancy, Windsor's longtime tattoo artist, was shocked to learn of his client's plight and praised Windsor for his generosity.
"I've been tattooing Brad since he was 16, and he always tips me, like, 45 percent," said Clancy. "I think it might be because he's almost always super drunk when I tattoo him, so he doesn't really pay attention to how much money he's handing over."
Show your support for The Hard Times and pick up a new t-shirt:
Article by Dan Luberto @TheDanLuberto. Photo by Brandon Polk @TheKegelsSF.