NEW YORK — Jessica Peterson was allegedly "shocked and confused" last night after every member of a group photo in a dating app profile showed up for a first date.
"Every photo was of the same group of guys," Peterson explained. "There was even one picture with all three dudes holding identical-looking fish. I figured the profile must be for the guy always standing in the center, but even the worst-looking one wasn't that bad, so I decided to go for it."
Peterson met her three suitors on Dine, a dating app that sets users up on actual first dates at restaurants and bars. But she never expected to be seated across the table from three men.
"I thought, maybe I'm still into it," she said. "They all showed up, so this must be a thing they're into, right? I've never tried it before, but if they're down, maybe I am. I try not to judge."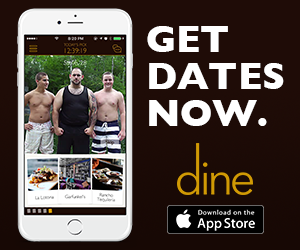 "What sort of weirded me out is they held each other's hands the entire time, which I found off-putting," she added.
The men, friends since middle school, reportedly joined Dine together just last week, each choosing a different group photo to upload onto the profile.
"I'm only on this app because it's cuffing season and my friends think I need to get back out there," they all said in perfect unison during the date, noting that together their height average is 5-foot-11. "Jessica seems like a chill girl," they later added. "Pretty hot."
"This is not the first date we've scored on this app," the three mouths of a single voice bellowed.
Related:
Peterson admitted the date started off rough, after her asking, "So… where did you grow up?" resulted in a bizarre, perfectly orchestrated response delivered by the men in one unified voice.
"They said something like, 'We, the people of this profile, grew up in a variety of places and times,'" she said. "Then, all together, they said, 'Do you like Netflix? Smiley face.'"
After the men reportedly took turns biting from the same burger, Peterson looked to end the date as swiftly as possible.
"They said they wanted to split the tip," Peterson said. "But I still don't know if they meant between themselves or between them and me."
"I'd use the app again though," she added. "Just as long as my date doesn't ask me questions that seem like he's trying to steal my HBO Go password."
Sponsored article by The Hard Times Staff @REALpunknews. Download Dine and get some dates already. Photo by Rick Homuth.