CUPERTINO, Calif. – Less than a week after the FBI announced it had cracked Apple's iPhone encryption technology on its own, federal investigators have returned to Silicon Valley demanding CEO Tim Cook explain what seems to be a Bernie Sanders and BURN reference on Cook's T-shirt.
"We have the full support of the President on this," said chief inspector Mallory Shea, "and both houses of Congress. They want to know what that shirt is all about. The American People demand it. So, like… is it a skateboard thing or something? I mean, I consider myself pretty cool, and this goes right over my head."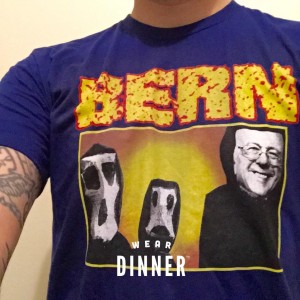 Cook immediately issued a statement refusing to comply with FBI demands, citing, "The potential for massive government overreach into all forms of subcultural references is something we should all be concerned about. Yesterday, it was Apple's state-of-the-art encryption technology; today, they want to know about this T-shirt reference which, in the right hands, makes this shirt pretty funny. I am sorry if you weren't exposed to enough '90s hardcore or anarcho-punk to understand this shirt, but maybe it just isn't meant for you. If we bend on this, what's to stop the government from demanding U.S. citizens explain all of their inside jokes?"
As they did regarding unlocking their iPhone technology, Apple certainly has its supporters. But in the case of figuring out this shirt, public opinion may be siding with the government.
"That Apple CEO really needs to let the American people know what that shirt even means," said Bonnie Curtis, a local mom who feels the government should intervene. "Does it have something to do with Bernie Sanders being in the movie Scream? Can someone please at least give me a hint?" asked Curtis from her kitchen table, staring at a photo of the shirt. "My daughter said it was 'hella tight' — I don't know what that means, and frankly, that scares me."
As of press time, neither Apple nor the FBI budged from their positions, leading to speculation that, once again, these public and private sector giants will remain at odds.
Article by Steven Kowalski @casimerkowalski and made possible by our friends at Wear Dinner.