DES MOINES, IA – Sources confirm the flyer for an upcoming Social Distortion concert at Rocky's Brew & Cue was clearly designed by a member of the opening band, Putrid Nutria.
"It was pretty obvious that (drummer) Kevin (of Putrid Nutria) made the flyer," claims local promoter Boxcutter Brian. "I'm doing them a favor by giving them a 10-minute set at the top because someone stole their gear last time they played here, but for some reason their logo is as big, if not bigger than Social D's."
The flyer, distributed along with a stack of loose CD-R's, raised immediate eyebrows among seasoned industry professionals. "Judging by the Sharpie-inked copyright date on this disc, I really doubt I'm holding the new Social D album," record store owner Mike Violence reported. "There's also a lot of text on the other side of the flyer — whoever made this clearly printed on papers that were being thrown out at their job."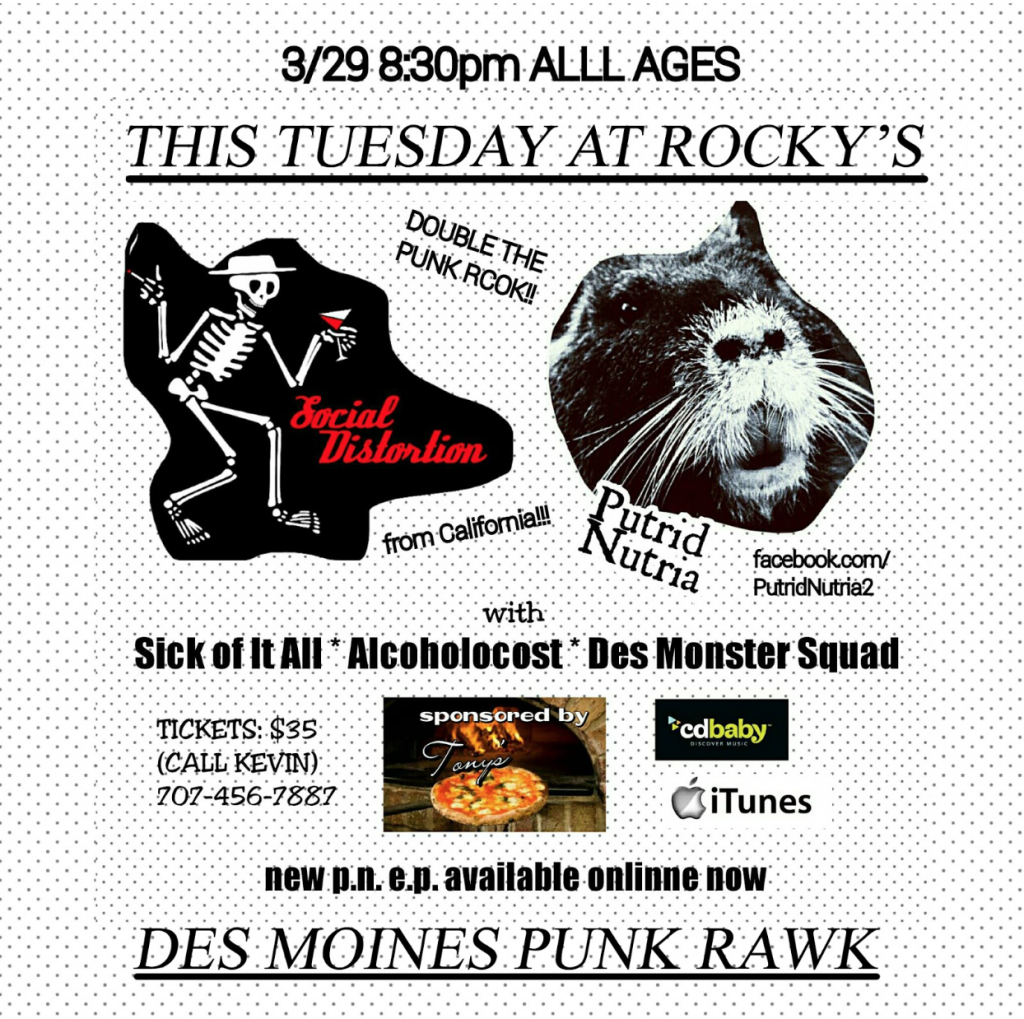 Mike Violence added, "I doubt Social D is responsible for the Papa Tony's Wood-Fired Pizza logo," appearing next to the "album available on iTunes and CDBaby" tagline at the bottom of the flyer. "And what's with all the fonts? If Kevin is trying to trick us into believing that Epitaph uses Times New Roman in their press kits, he should have at least opted against underlined italic."
Touring support Sick of it All expressed concern with the Facebook event page for "Social Distortion, Putrid Nutria and More," which appears to be taking place at "Anti-Everything Records (Official)."
Related:
Kevin Kaos, assumed to be responsible for the low-budget flyer, claims he's doing the bigger acts a favor by performing with them. "To be honest, not a lot of folks around know about Social Distortion these days. Our draw in Des Moines has been huge ever since we headlined Katie's house party, so if anything, we should be the ones closing out the show."
Admission for the show is $35, and tickets can be purchased through Ticketmaster's website or by calling Kevin at (707) 456-7887. He needs to sell 50 or his band will not be allowed to perform.
Article and photo by Ray McMillin @RainManMcMillin.