PHOENIX, AZ — 67-year-old Edna Berman still fears that KISS may be a negative influence on her adult son, Tim Berman.
"I caught my son listening to their music in high school. Those men with their makeup and tight pants — you could get all kinds of awful ideas from them," said a visibly agitated Mrs. Berman of the band that peaked decades ago and is now mostly just a merchandising company with ties to reality television. "I still wake up at night with cold sweats thinking about what thoughts they could have planted in little Timothy's brain. Oh, why did I let him paint his face like a cat in kindergarten?"
Mrs. Berman's 41-year-old son Tim Berman works an upper management job at a major construction firm and enjoys spending his free time with his two dogs or golfing.
"KISS? Yeah, I thought they were cool for a year or two when I was in high school," said Berman while printing out a report on the effectiveness of quarterly reports. "I don't really listen to them anymore, but I have an old tour shirt that I jog in sometimes — gotta stay healthy!"
"Knights In Satan's Service — that's what it stands for, you know," explained the elder Berman. "I pray for my son every day, but it might already be too late. I heard he also bought that video game Grand Theft Audio. Maybe that's why I don't have any grandchildren!"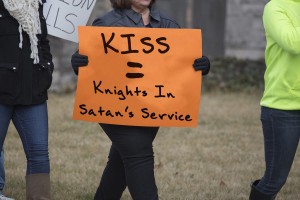 When reached for comment, the younger Berman responded, "My mom is worried about KISS? Geez, I'm more worried about the fact my doctor says my knees are turning into sand. I just bought a house and I'm already underwater on the mortgage. I'm halfway through my life and I've never even been to Europe. And she's worried about how Kiss is influencing me?"
At press time Berman stood up, walked to his stereo, and pulled out a vinyl copy of KISS's Destroyer before mumbling to himself wistfully. "Honestly, I wish they'd influenced me more."