Less than Jake are the unsung heroes of 3rd wave ska. While they may not have had a giant radio hit like Reel Big Fish and Mighty Mighty Bosstones, their influence on ska was just as impactful. Just listen to any up-and-coming ska band (assuming those exist) and you'll hear the countless ska tropes that LTJ basically invented along the way.
So sit back and enjoy our rankings of every studio album from the band with the best "time spent on Warped Tour-to-accusations" ratio of all time. Oh, and we can't wait to read the comments about how some EP or B-Side collection we didn't rank is, "AKCHOOALLY THEIR ONLY GOOD ONE."
9. See the Light (2013)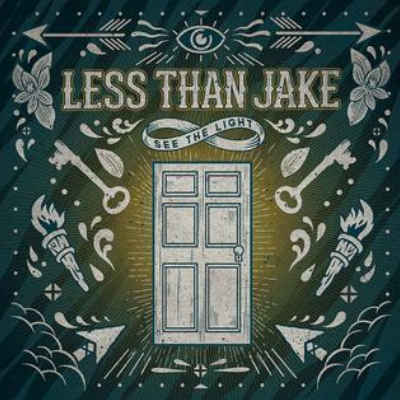 This entire album is a disappointing listen. With the exception of one song that sounds just as huge and emotional as some of the more epic tracks on "Anthem," the rest of the album plays like a collection of the blandest songs across their entire catalog. They're not bad but they're not nearly up to par with the rest of the discography. This record suffers from a massive influence of a bland type of modern punk rock that many people call "Fest Punk." Just don't call it that around anyone who actually goes to Fest.
Play it again: "Sunstroke"
Skip it: "Do the Math"
8. In With the Out Crowd (2006)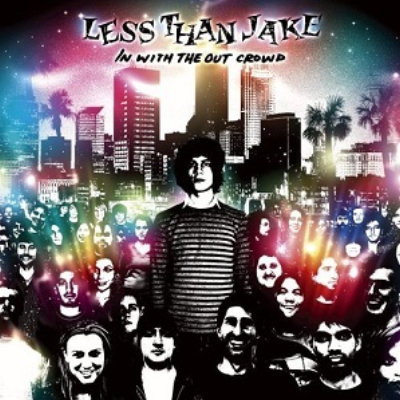 This is the only other Less Than Jake record that isn't amazing. They're a fantastic band so let's get this out of the way before gushing over the rest of their catalog. "In With the Out Crowd" is LTJ's major label follow-up to "Anthem" and gets the nod over "See the Light" simply because it's a major departure from the band's typical sound. It's at least an interesting collection of iffy songs as opposed to a boring collection of iffy songs. This record made me want to call cry "Sellouts!" but my voice was still hoarse from doing that when they put out "Anthem" (except I was wrong that time).
Play it again: "Hopeless Case"
Skip it: "Don't Fall Asleep on the Subway"
7. Silver Linings (2020)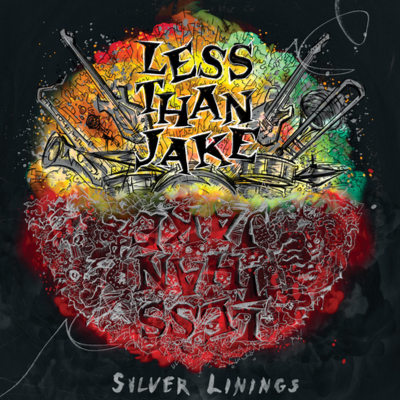 It's wild how Less Than Jake's musical palette is expanding while Reel Big Fish's is shrinking. In the '90s, LTJ was the distant 4th on the Mount Rushmore of ska behind No Doubt, Mighty Mighty Bosstones, and RBF. That changed drastically with the success of "Anthem" and Less Than Jake has continued to be a major force in keeping ska alive, and even pushing the genre forward, ever since. "Silver Linings" does an incredible job showing that LTJ can still experiment and modify their core sound in a way that's classic yet fresh. There are a lot of corny lyrics and the Fest Punk-vibe is strong, which holds it back a bit.
Play it again: "So Much Less"
Skip it: "Move"
6. GNV FLA (2008)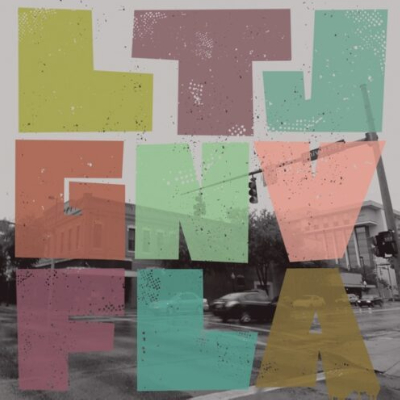 Once the band was freed from the ska-hating shackles of a major label, they released GNV FLA. This album is a complete return to form (and genre). This record is rawly produced, which matches the songwriting. The less-polished production works perfectly as a (likely accidental) throwback to how their early records sounded. Lyrically, this album doesn't hold a candle to LTJ's top 5, but musically it's right up there with their truly S-tier records.
Play it again: "Abandon Ship"
Skip it: "Malachi Richter's Liquor's Quicker"
5. Pezcore (1995)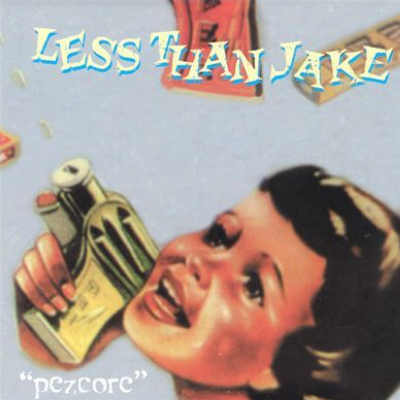 Now we're fucking talking! The rest of this list is primo-LTJ gold. "Pezcore" sounds like a local band at times (which they were when they made it) but it sounds like the best local band of all time. The songs are incredibly well-written, lightning-fast ska classics, recorded exactly how you'd expect for an unsigned ska band in 1995. It's full of little flaws but that's part of what makes it perfect. Catch 22 often gets credit for popularizing "hyperstrokes," but "Pezcore" led the way. This is a game-changing record if you care about ska. So I guess it's not that game-changing for most of you. But it is to me, dammit.
Play it again: "Liquor Store"
Skip it: "Process"
4. Borders & Boundaries (2000)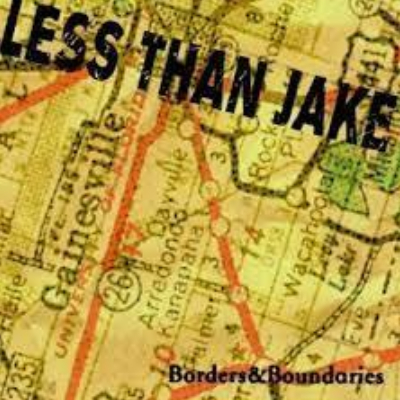 "Borders & Boundaries" is the album where Less Than Jake truly came into their own as writers of, let's say, anthems. The songs on this record sound gigantic. Many of the songs are instant campfire sing-a-long classics. Oh, also, this album has a lyric about how people in the punk scene aren't funny. The only other time I've heard a lyric like that was in a song by Against Me!, who are from the same city. Damn, the Gainesville Florida punk scene must have the worst sense of humor. I wouldn't worry about it though, Gainesville isn't a big punk town.
Play it again: "Last Hour of the Last Day of Work"
Skip it: "Mr. Chevy Celebrity"
3. Losing streak (1996)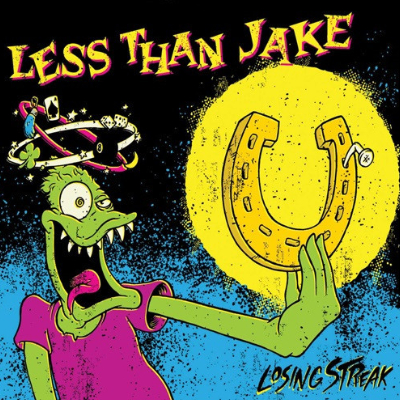 There is a special place in my heart for any ska album that came out between 1995-1998. This was when 3rd wave ska had its largest influence in the music world and the records that were produced during this period were so inspired and advanced the genre so massively. For instance, on "Losing Streak" you can hear countless ska tropes that were basically created while making this album. The singers learned how to synergize their vocals in a way they'd continue to perfect throughout their career. It's a real shame the only radio hit they had during this era was "We're All Dudes." Just kidding, that's worth a million "Sellout"s.
Play it again: "Krazy Glue"
Skip it: "Rock-N-Roll Pizzaria"
2. Anthem (2003)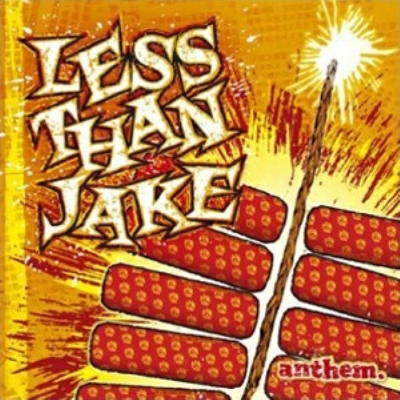 Long-time fans know that this record was a fucking force. Even longer-time fans know it was not initially well-received. As a major label release that was almost entirely stripped of ska, hardcore fans were initially put off by the album's radio rock vibes. Hell, there's an entire album of B-sides from this record that sound like the ska album the band intended to make as a follow-up to "Borders & Boundaries." "Anthem" is a prime example of how limitation breeds creativity. Go listen to this record, especially if you're not into ska. It's also pretty sick how they called their shot by naming this record "Anthem" and then wrote like 14 songs that were damn sure anthems.
Play it again: "Plastic Cup Politics"
Skip it: "Motown Never Sounded so Good"
1. Hello Rockview (1998)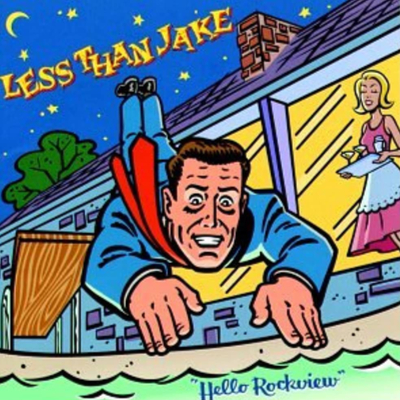 Ungodly-catchy hooks, perfect instrumental and vocal synergy, and lyrics that still make me want to scream off the rooftop that I'm leaving this town, nobody gets me, and fuck you Mom and Dad. If you can find the CD booklet, open it up and immediately listen to this album even if you've heard it a million times before. The booklet re-orders the songs and turns them into comic book pages with the lyrics serving as dialogue and exposition. In this context, "Hello Rockview" tells the story of an adolescent re-visiting everything in his hometown and contemplating his past, future, and self before finally leaving for good. Though you can get the same basic story from listening to it in the regular order too, I guess.
Play it again: "Danny Says" (I don't care what you say Chris Demakes, this song rules)
Skip it: N/A