"Oh yeah, Fishbone… I saw them [open for the Beastie Boys/play Lollapalooza/on tour with Parliament, etc. – fill in nearly any rock act], they were insane." Not only does Fishbone's live show leave an unforgettable memory, but they have played every genre with every act. But a heavy funk rock, jazz, R&B, and soul influenced band that played ska and reggae songs featuring a theremin, faced a 40-year uphill battle. It might be glib to blame racism, but this is the record industry we're talking about. Told their sound was too white for urban radio and they were too black for rock radio, promotion and PR threw up their hands rather than find a proper way to market them, while the band continued to build a name and reputation through constant touring, appearing all over pop culture, and delivering high-energy live performances.They were unapologetically political, but frequently sang about butts and farts. Fishbone were goofy, but they weren't goofs. They could be cartoony, but they weren't cartoons.
When they can't define you, they define you as "cult." Well, here are the rankings of the cult albums from one of the best cult bands:
8. Still Stuck In Your Throat (2007)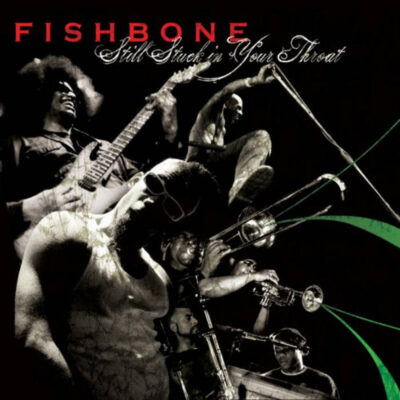 The problem with being a true original is when you do the same thing for 40 years, it comes off tired, even for a band known for their frantic high-energy style. Perhaps because it was a combination of unreleased tracks, including a dated song about Saddam Hussein three years after his death, but this album does not come together. The standout is their cover of Sublime's "Date Rape." They add gravitas and a much improved guitar solo to one of the dumbest songs from one of the dumbest bands ever. It's not so much "their earlier stuff was better," but they did the same things better earlier.
Play it: "Party With Saddam"
Skip it: "Let Dem Ho's Fight"
7. Chim Chim's Badass Revenge (1996)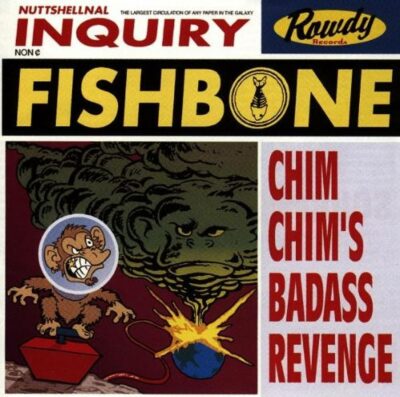 With a long-running band, members have a tendency to get frustrated and quit. Or in Fishbone's case, quit, join a cult only to have another member try to rescue them and be brought up on kidnapping charges. Nevertheless, this album suffers from the loss of two key songwriters, Chris Dowd and Kendall Jones. Dowd's departure is painful, but luckily the band still has one of the most charismatic frontmen of all time. Angelo Moore makes Mick Jagger and David Lee Roth look like a stack of bones bound with stringy hair. It's no surprise he has writing credit on the album's best two tracks. However, the production is muddled. With a funk influenced band, the bass is the star, and Norwood Fisher is one of the best, but the bass parts are buried! This is a bit of a concept album, but the concept is also completely muddled. The narrative, spread over multiple introductions, interludes, and jams, appears to be about how a space monkey's genitals are free from corporate overlords.
Play it: "Alcoholic"
Skip it: "Interlude 1," "Interlude 2"
6. Fishbone and the Familyhood Nextperience Present: The Psychotic Friends Nuttwerx (2000)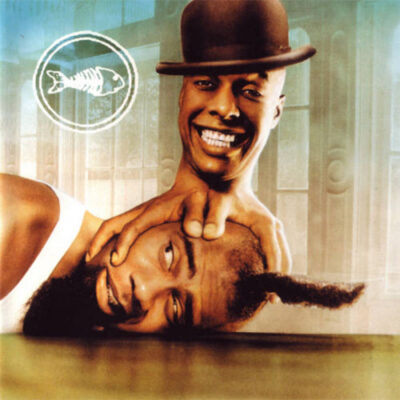 Being innovators was the curse of Fishbone's career. Album after album they blazed a new trail, only to be discarded by the market, while bands like the Red Hot Chili Peppers steal the playbook and replace their humorous and incisive lyrics with off-key "scabby-dooby California" nonsense. But in this case, the album of reggae, ska, and pop hooks came four years too late. They luckily released a best of compilation to stay top of mind with the '90s ska revival, but this could have been a hallmark of third wave ska, with the bass lead reggae groove combined with vaudeville jokes in the Suffering. This album is notable for the variety of guest musicians – Gwen Stefani, George Clinton, the aforementioned RHCP (thankfully only the talented members), and Donnie Osmond, but the album is strictly for friends and fans.
Play it: "Just Allow"
Skip it: "Dear God"
5. In Your Face (1986)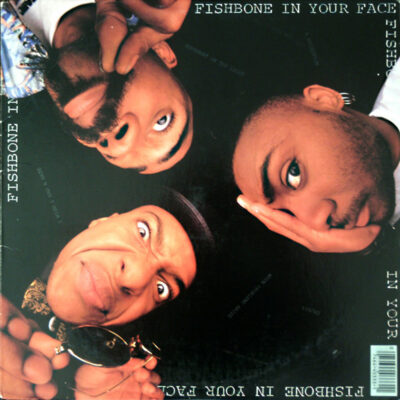 Sophomore releases either stay the course or make a drastic change in their sound, but Fishbone went deeper. Not only musically by adding soul and jazz influences to their ska/funk/rock/reggae/new wave repertoire, but also as a personal exploration of the environment that produced them. Though it's far from the best track on this album, but if you want to impress people with your knowledge of trivia, tell them "Turn The Other Way" was the original song playing on John Cusack's boombox in "Say Anything," so be prepared to be carried out of the room with a crowd of people chanting your name.
Play it: "A Selection"
Skip it: "Post Cold War Politics"
4. Give a Monkey a Brain and He'll Swear He's the Center of the Universe (1993)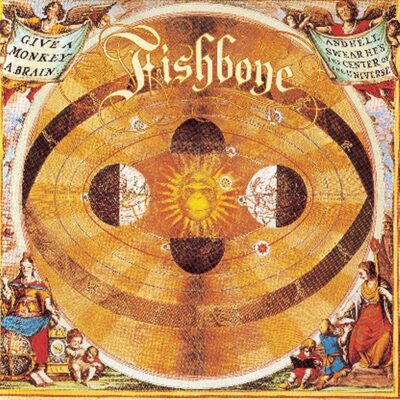 This album is noteworthy for two things: It is the last recording with the six original members, and it is HEAVY. The band does their usual exploration of genre and maturity of style, and even with everyone at the top of their game, the chunky guitar stands out as a giant step into a new world. In retrospect, the cracks in the foundation were starting to show, every member was given the spotlight, but that might have been a peacekeeping measure. The album starts with three metal songs that rock harder than anything on "Headbangers Ball," before easing into the giddy pop-ska of "Unyielding Conditioning." This is a stew where every ingredient shines, except the potatoes wanted to go solo and the onions were having a nervous breakdown.
Play it: "Unyielding Conditioning"
Skip it: "Drunk Skitzo"
3. The Reality of My Surroundings (1991)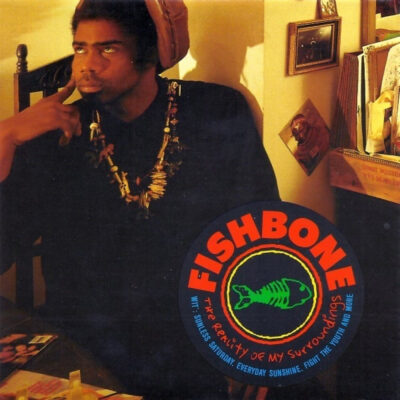 This is Fishbone's most ambitious and highest charting album, and it's not hard to see why: the genre blending (and genre bending), the social commentary, the political fearlessness, the energy, the humor, and the musicianship were all presented in a flawless package. Each member plays multiple instruments, but keyboardist/trombonist/vocalist Chris Dowd shines on this outing as the ultimate utility player, getting featured as lead vocalist on a few tracks and proving that keyboards can rock. Shockingly, even the poetry interludes are impressive as Angelo Moore hints at his future controversial Dr. Madd Vibe persona. They pulled out all the stops, having Spike Lee direct their videos and hitting all the late night shows, but once again, being trailblazers hurt them. If released later in the '90s, the gospel-influenced "Everyday Sunshine" would have been a Clinton-era ska breakthrough, and "Fight The Youth" would be the lead track on the "Tony Hawk's Pro Skater" soundtrack. They will have to live on as the t-shirt for every John Cusack character and as a band that can tour forever everywhere to a devoted fanbase.
Play it: "Housework"
Skip it: "Babyhead"
2. Truth and Soul (1988)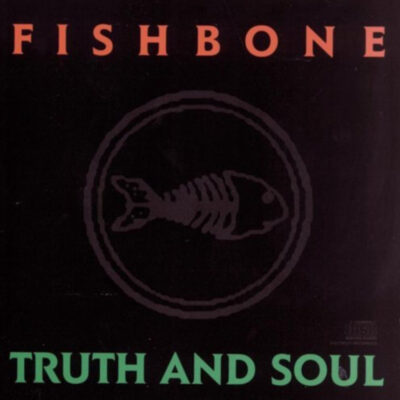 On their second full-length release, Fishbone melded together as a group, as a band, and as a team. Everyone is absolutely at the top of their game from the songwriting to the bass lines, the horns licks, the harder edged guitar solos, and even the ad libs and yelps are on point. They showed how they can interpret a world of influences into their own sound by taking Curtis Mayfield's classic "Freddy's Dead" from a funky, mournful lament into a hard-driving cautionary tale. That is the essence of Fishbone: absorb sounds from everywhere, take a lifetime of socially conscious observations, mash it together and create something even better. And then include a song about boning in a boneyard.
Play it: "Ma and Pa"
Skip it: "Deep Inside"
1. Fishbone* (1985)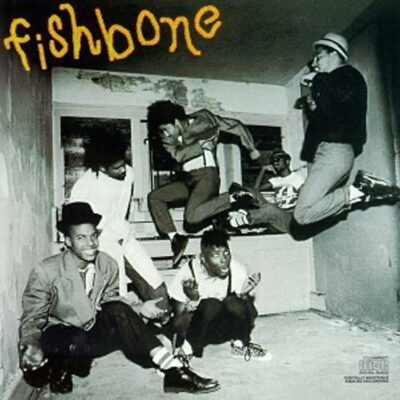 As a rule, these rankings don't include live albums, compilations, or EPs, but this is Fishbone's best release. A six song EP contains two of the greatest ska songs ever written, and are guaranteed to win over the biggest ska skeptic. The album turns a cheerleader chant into an anti-Reagan anthem, a sci-fi tinged jam calling out radio stations by name, a pop nugget, a nuclear party epic, a bouncy anti-love song, and a scatalogical gem which debunks the conspiracy that the World War II attacks in Japan weren't atomic bombs but Godzilla's farts. The standout is "Lyin' Ass Bitch," a song which made headlines when the Roots played it as the entrance music for Republican ghoul Michele Bachman on Jimmy Fallon causing such an uproar that Fallon vowed to never to be political, funny, or interesting.
Play it: "Lyin' Ass Bitch"
Skip it: "Modern Industry"