BOSTON — After years of complaints by neighbors and police, a local hardcore kid was featured on the popular TLC television drama "Hoarding: Buried Alive."
Patrick McClanahan, popularly known as "Posi McPatty", appeared on this weekend's episode, titled "Attacked By Rats." His friends and neighbors, fearing for his safety, reported him to the exploitative producers of the hit TV show.
Surrounded by the towering piles of rotting T-shirts, posters, tapes and moldy records he has collected in his Quincy home over the past nine years, McClanahan seemed uninterested in getting rid of any of his collection – the weight of which has made the floor begin to cave in.
"It started in 2006 with Warzone records. We thought Patty just liked Warzone like the rest of us, until he started tracking down the Tommy Rat demos and the last LP, then we knew he had a real problem," Colin Bait, McClanahan's longtime friend and former bandmate, said.
"We had to kick him out of our band, 87 Demo B Side, after we found out he spent all the money we made on our U.S. tour on misprinted Right Brigade shirts," Bait said. "We worked hard for that $35!"
On clean-up day, professional organizer Katharine Hoffman uncovered a hoard of merch that necessitated a dizzying climb to the ceiling to enter the home.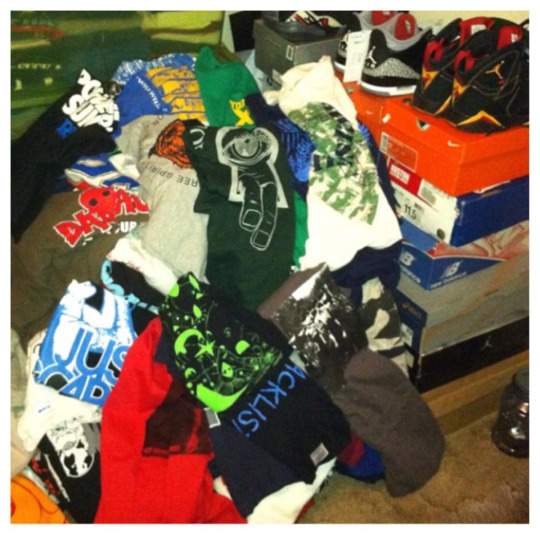 "Hello, my name is Katharine Hoffman and I'm an extreme cleaning expert specializing in obsessive compulsive merch hoarding," Hoffman said. "This is far and away the most graphic example of merch hoarding I've ever seen. I mean, who needs that many Fucked Up records?"
Despite her expertise, Hoffman was unsuccessful in getting McClanahan to part with his 48 warped copies of Killing Time's Happy Hour.
"I need these; they're rare, out of 200, and only these 48 came with the misprint cover!" McClanahan pleaded.
She was also unsuccessful in parting McClanahan with 11 identical rat-eaten Cold World shirts – all now reading "Old Word", due to McClanahan's insistence that they were "hand numbered, out of 12."
Family members say his obsession may have started after the loss of a four-sided Project X shirt in a very heated 2006 eBay bidding war.
"It's a difficult disorder. Compulsive merch hoarders identify themselves with their objects, and fear loss of them as a loss of personal credibility," Hoffman said.
City officials had hoped to have the home cleaned up by the end of the show, but after so much resistance from McClanahan, they were forced to condemn the house.
Photo by Steven Y.