SACRAMENTO, Calif. — Local 12-year-old Tanner Allen gave his father Grant a ride to Ace of Spades last night to see ska-punk legends The Aquabats play, slightly embarrassed sources confirmed.
"I was happy to give him a ride [to see the Aquabats]. He's been a good dad lately, and really earned it," said Allen. "I told him to take it easy on the pineapple soda and pizza, though, because he has work tomorrow. I don't want him to have a headache all day."
The pre-teen explained that while he will usually accompany his dad to certain concerts, he wasn't worried about his father getting into any trouble at this particular show.
"The 'Bats make a great, dad-friendly environment — there's plenty of seating at the back, and the pits are never too rough. But I still want to make sure he gets home alright when the show ends," said Allen, who patiently killed time walking around the foodcourt of the Tower City Center mall. "He always gets so worked up at shows like these; it can be tough to get him down for bed at the end of the night. He loves to tell me about all the songs he sang along to, but he can do it while he brushes his teeth."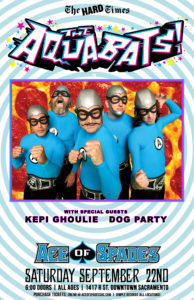 Grant Allen, Tanner's father, was grateful for permission to attend his favorite band's show.
"I have seen the Aquabats a lot… and sometimes, I've let my enthusiasm get the best of me," said Mr. Allen. "One of the lowest points in my life was after a show in 2015 — I had way too many Capri-Suns, and sugar-crashed on my neighbor's lawn. My son had to come escort me home. I hated having him see me like that."
Ace of Spades manager Debbie Wilniki confirmed that past Aquabats shows have seen lots of tweens socializing in the parking lot while their parents enjoy the show.
"Most kids just stay in their cars and listen to Pandora, but some use the time to livestream about it on Instagram," said Wilniki. "But one thing they all have in common — their faces light right up when they see how happy their fathers are after the show."
Asked about his own interest in the Aquabats, the younger Allen claimed he used to watch Yo Gabba Gabba at his dad's insistence, but grew out of it years ago.