Cursive is such a criminally overlooked band that many public schools have cut them from their curriculum entirely. We here at the Hard Times believe that a proper education in Cursive is crucial, and because we all know art is hard, we've taken the time to rank all nine of their masterpieces for you.
9. I Am Gemini (2012)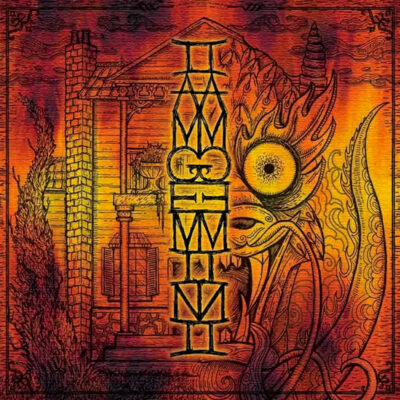 The least successful of Cursive's conceptual albums; "I Am Gemini" found the band in a panic. Presumably, they realized the album was due the day before they got around to writing it. Hoping to get at least partial credit on the assignment, lead songwriter and frontman, Tim Kasher, phoned in a lackluster story centered in a tired 'good twin/evil twin' trope. Spoiler alert, the evil one dies at the end. Or at least we think he does. The lyrics are super confusing and the stage directions in the liner notes don't really help our understanding here. This record proves that sometimes it's better to just take the zero.
Play It Again: We tried, and it doesn't make any more sense than it did the first time.
Skip It: Yes please!
8. Such Blinding Stars for Starving Eyes (1997)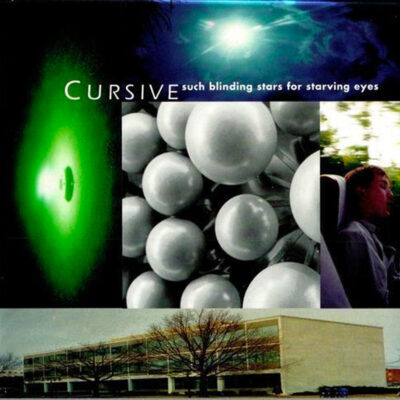 Typically a band's debut album can be expected to rank relatively high, but "Such Blinding Stars for Starving Eyes" marks a pretty rocky transitional period for Kasher following failed musical outing, Slow Down Virginia. Shortly before this record dropped, he was also co-fronting the moderately successful emo-pop band, Commander Venus, along with Conor Oberst. Their output was considerably sunnier than the sound Cursive would later adopt. "Such Blinding Stars" kicks off Kasher's long held tradition of living under the shadows of less talented songwriters, but spends much of its runtime struggling to find the band's identity. This is all without mentioning that the album art looks like the cover of a Chemistry textbook.
Play It Again: "Ceilings Crack"
Skip It: "At the Movies"
7. Vitriola (2018)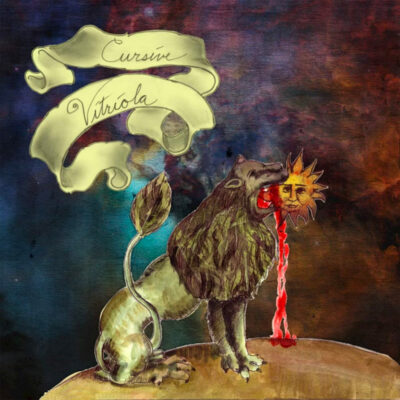 "Vitriola" serves as a welcome and almost refreshing comeback from the din that was "I Am Gemini." The riffs are heavy, the lyrics are passable, and the aggressive cello that sonically painted their classic album, "The Ugly Organ" makes a return via new member, Megan Seibe. Still, it can be hard not to hear this album for the blatant fan service that it is. Many of its strongest tracks sound like a lesser group trying to channel Cursive, rather than the actual band offering a new statement. With arrangements and riffs appearing to be directly lifted from earlier albums, it too often begs the question: "Why not listen to those instead?"
Play it Again: "Under the Rainbow"
Skip It: "Noble Soldier/Dystopian Lament" (it's almost eight minutes long and not in a fun way)
6. The Early Storms of Summer: Semantics of Song (1998)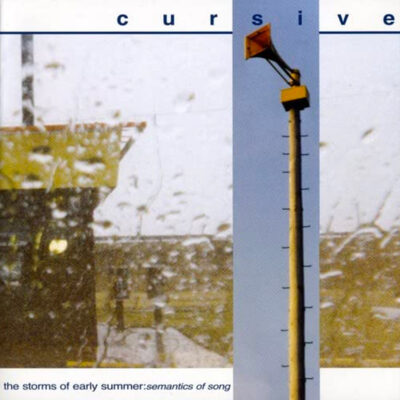 Much like its predecessor, this record finds Kasher searching every drawer of the house for his signature singing voice with varying degrees of success. Still, "Storms of Summer" holds a bevy of classic moments, many of which appear to be rough drafts of "Domestica" fan favorites. The wildly satisfying guitars here solidified the "depressed Fugazi" sound that would soon endear legions of depressed Fugazi fans to the band.
Play it Again: "The Road to Financial Security"
Skip It: "Absence Makes the Day Go Longer" (you'll probably already be listening to "Domestica" by this point in the album)
5. Get Fixed (2020)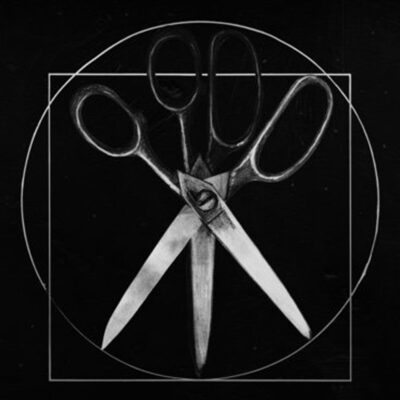 This album flew so far under the radar that we'll have to forgive you if this is the first time you've heard of its existence. Absolution aside, it's all the more reason to stop living in the past. Look at all you've missed! "Get Fixed" is an incredibly stellar late-game addition to Cursive's catalog. Where "Vitriola" floundered, this record exceeds, harkening back to their classic sound without sacrificing the room to evolve it further. The album's title is seemingly a reference to castration, but this offering finds the band at its most virile in years. (Our editors would apologize for that borderline dick joke, but it is a Cursive album ranking, after all.)
Play It Again: "I Am Goddamn"
Skip It: "Marigolds" is the only one that sounds out of place here.
4. Mama, I'm Swollen (2009)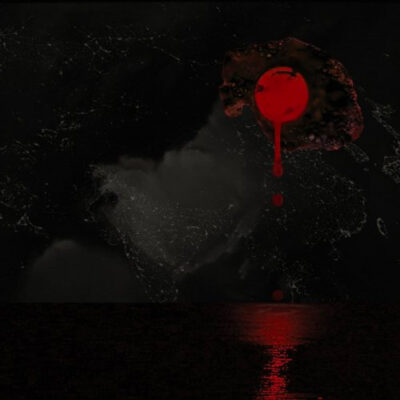 Speaking of dick jokes, "Mama, I'm Swollen" really takes the cake as far as album titles go. Depending on who you ask, this album is either the last true Cursive classic, or the beginning of a long downward spiral for the band. Fortunately we're the ones being asked here, so it shall be correctly placed in the 'classics' category. Here we find Kasher loosening his characteristically tight thematic grip to help the band deliver something more personable. The results produce an airier, more accessible Cursive. If the band only had the foresight to leave the corny-as-hell "Caveman" off the final track list, this record would have the potential to rank even higher. Come on guys, did you really think you could top the Kinks version of literally the same idea?
Play It Again: "Let Me Up"
Skip It: "Caveman"
3. Domestica (2000)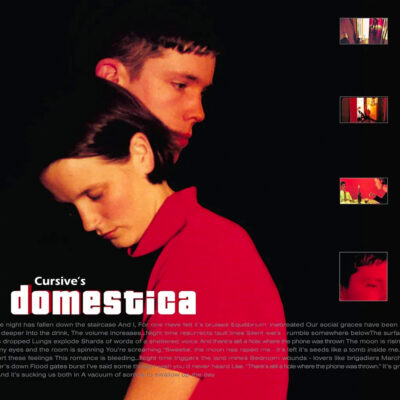 We know. You expected this record to be number one. Well, it's not. Look, we think "Domestica" is incredible. If we're really being honest with ourselves, though, we know it's not the band's absolute best. No one likes the guy at the party that's constantly screaming about his divorce. Before you ask; yes, we were there and we don't care how fucking amazing the 20th anniversary shows were. "Domestica" tends to get a lot of praise based on nostalgia alone, but that does not equate to it being the pinnacle of their work. Yes, it's true that this record features some of the greatest guitar work the band ever produced. Lyrically and thematically, however, it only serves as a loose blueprint for the social commentary that Kasher would later expand upon with greater insight and clarity.
Play It Again: "The Radiator Hums"
Skip It: "I Lost the Will to Fight"
2. The Ugly Organ (2003)
You might recognize this album's cover from your bartender's forearm tattoo. His name is probably Zack and he can rank the draft list for you. We've got the music part covered. "The Ugly Organ" turns Cursive's predilection for dissonance up to ten, while somehow infusing a stronger pop element than "Domestica" could ever dream of delivering. Much like on its predecessor, the chaotic sounds that permeate this record are used symbolically to represent the themes of toxic masculinity that the band rails against. Using damaged and problematic characters as mouthpieces, Kasher along with guitarist and vocalist, Ted Stevens, deliver their criticisms with an almost unparalleled nuance. Even to this day, there are plenty of asshole dudes who fail to understand that they are on the receiving end of the jabs. (We're looking at you, Zack.) Even though the closing track, a cover of the Bee Gees disco anthem "Stayin' Alive", bares little resemblance to the original song, the album as a whole fails to suffer from such a blunder.
Play It Again: "A Gentleman Caller"
Skip It: "Bloody Murderer"
1. Happy Hollow (2007)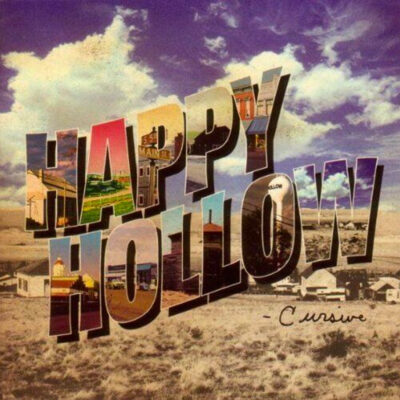 We're probably going to get a lot of shit for this, but if you don't think Cursive's magnum opus deserves the top spot here, we implore you to write your own damn ranking. Many bands dream of making a record as perfect as "Happy Hollow," and very few succeed. That may be due to the fact that very few bands are armed with this album's horn section and producer Mike Mogis' tutelage. Not enough can be said about this record's accidental timelessness. Given the total shit-fire that our country is in today, the political themes of this album are sadly more relevant now than they were sixteen years ago. On the whole, "Happy Hollow" is an anti-establishment, anti-religion, pro-kicking-your-face-the-fuck-in fever dream disguised as an indie pop album. It absolutely cannot be missed, no matter what your tasteless friends say.
Play It Again: This is one of those "listen to the whole album" things
Skip It: Don't you fucking dare.
Read more rankings of your favorite bands