WASHINGTON — President Trump lashed out against "fake news media" on Twitter this morning after a handful of journalists allegedly convinced him to write "PEN15" on his hand in sharpie during an interview with the New York Times.
"Fake news media JERKS tried tricking me into joining NOT REAL CLUB 'Pen 15!' Very sad! Joke is on them, I am in MANY clubs that love me and I actually LIKE having PEN15 written on my hand. Very powerful," the President said in a series of 4 a.m. tweets this morning. "The failing New York Times will pay for this! Very bad newspaper filled with writers who you think are your friend but are NOT!"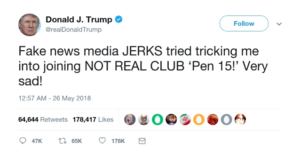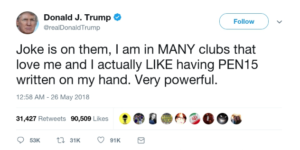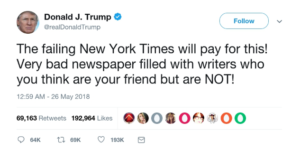 The tweets were followed by thousands of replies from Trump fans praising the President, as well as a significant number of bots confirmed to be from a Russian troll farm.
"Love you Mr. Trump, you are a real patriot for what you are doing! I write PENIS on my arm every single morning to support you #MAGA," read a tweet with 4,000 likes from @TrumpThatBitch63, reportedly a mother from Oklahoma with four children.
According to New York Times politics editor Patrick Healy, the "Pen15" ploy was a calculated move by journalists from the Times.
"We obviously have very little political power," Healy explained. "So the only real strategy we have to fight the dangerous decisions made by our President is trick him into writing curse words on his body."
"I think, as activists, we have so far done a pretty solid job defending the country from the President's vitriol and lies," he added.
Meanwhile, Trump's sudden arrival into the Pen15 club was met with positive reviews from longtime members.
"I first joined the club right after gym class in my freshman year of high school, and it is a stigma I've never been able to shake," said Pen15 club member Barry O'Rourke. "I stupidly used a permanent marker and it followed me into my adult life. But now that a sitting president is in the club, I suddenly feel validated."
At press time, President Trump sent out an email to supporters detailing his new "Trump15 Club," encouraging his base to send $20 to receive a TrumpMarker and to write "PENIS #MAGA" to support his 2020 reelection campaign.