NEW YORK — An elite bomb squad of renegade punks called to investigate a suspicious package at the Chrysler Building earlier this morning were dismissed when the device was found to contain more than three cords, according to police reports.
Eyewitnesses report the punk bomb squad, made of several members of a local anarchist collective, arrived about three hours late and were "clearly nursing hangovers."
"They all got out of this shitty van and stumbled over to this briefcase-looking thing left in the lobby. They didn't seem to be on the same page at all, and after about 10 minutes, they just gave up," said Susan Parker, an office manager in the evacuated building. "One of them just smoked a cigarette the entire time and walked around the perimeter."
After several minutes discussing their options, the punk bomb squad allegedly suggested the building contact the "normie bomb squad."
"Yeah, you see these bombs with more than three cords a lot, so maybe it's better if those former Marine jocks come in here with their fancy robots to diffuse this piece of shit," said punk bomb squad leader Cory Baltrus. "Probably, like, 99 percent of the bombs out there have more than three cords in them. Frankly, anything more than three is just try-hard bullshit. Like, we get it, dude — you can make an advanced bomb. But, like, isn't the point of bombs to send a message anyway?"
Baltrus grew defensive when asked how many cords the device contained.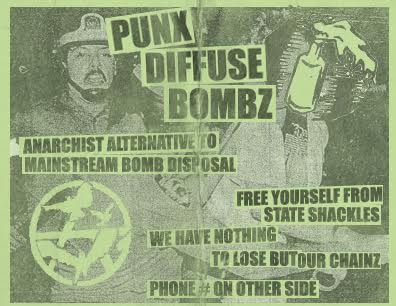 "It can have just one cord and still be a bomb, dude. Honestly, it can even be more of a bomb if you strip it down that much," Baltrus said, feeding a sandwich to his three-legged dog. "Having, like, 10, 12, 20 cords? Fuck off with that. Terrorists these days, they're gonna start putting their damn picture on the cover of these bombs soon. So fucking fame obsessed. Watch — it's gonna happen."
When asked whether his dog was a part of the squad and could sniff out bomb-making materials, Baltrus responded, "Sure, if he wants to."
The punk bomb squad was unavailable for follow-up comment following an explosion caused by a four cord bomb.