DULUTH, Minn. – Merch guy Kyle McCarey bucked societal norms by putting schooling and family to the side while hitting the open road to pursue his dream of tagging along with his more successful friends in bands, according to loved ones who wish he would grow up a little.
"I don't mind if the guys force me inside the bass drum case and put me in the trailer, because I know they love me – and if they need someone to do an overnight drive while they nap, they'll let me out," said McCarey, the longtime merch guy for touring punk act Next To Tomorrow. "It's like they say, 'behind every great band is a great merch guy, in the trailer, alone.'"
McCarey is constantly battling the hard truth that the life of a touring band may seem glamorous to "outsiders," but, as he's learned, it's anything but.
"Last night I used a bag full of burger wrappers as a pillow. Do you know how hard it is to sleep on a bag full of garbage on the floor of a van? Will I wake up tomorrow and want to do it all again? Probably not, but I will," said McCarey who gave up a full scholarship in order to sell shirts and pins. "But ever since I was the waterboy on my pee wee football team I knew I wanted to be kind of a part of something great.
"I was watching all my friends following their dreams and their passions. And what was I doing? Sitting in a classroom like a dick, texting my girlfriend and planning my mother's 55th birthday party. I was fucking miserable." Kyle McCarey
Next To Tomorrow guitarist Trevor Simms initially recruited McCary to be there merch guy, effectively changing the young man's life for the worse.
"I just straight up said to him, 'Hey man, we need a merch guy. I totally understand if you don't want to come along. It's kind of a shitty job. We can't really pay you and you'll need to pitch in for gas, but it's yours if you want it,'" said Simms. "Kyle's face just lit up. I know how much he likes to watch others succeed while he just sorta hangs out. You could tell his dream was unfolding before his eyes."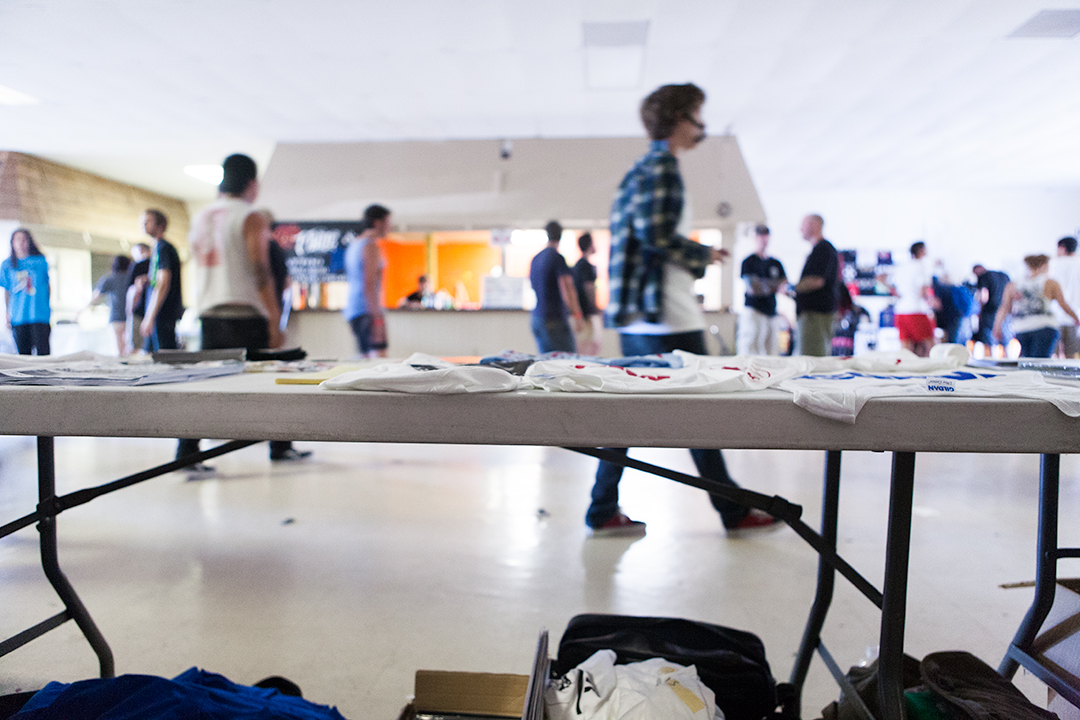 Next To Tomorrow is currently in the middle of a week-and-a-half-long tour of the Midwest. With most members still in college, they have a very strict touring window.
"We're all working toward a degree or have full-time jobs. I genuinely have no idea why Kyle dropped out of college and dumped his girlfriend for this. He keeps talking about getting our logo tatted on his neck," said Simms. "None of us even have tattoos."