Be honest, if you saw the traditional ska act to end all traditional ska acts known as Motionless in White on a Scranton, Pennsylvania Warped Tour Ernie Ball side stage with Creed Bratton by your side in 2005, did you and/or the best part of "The Office" think that the extremely polarizing band would eventually morph into a 2020s version of Brian Warner sans abuse allegations? We assume no, but we offer our thoughts/prayers to you if you try to act like you were ahead of the curve and cracked the code on the band's eventual esteemed sonic legacy, which has nearly four million monthly listeners on Spotify and counting, you saucy tomato, you. Anyway, make sure to utilize a lowercase letter for the "i" in MIW's actual name, revisit all six of their albums, and show us a sign of life in the comments.
6. Graveyard Shift (2017)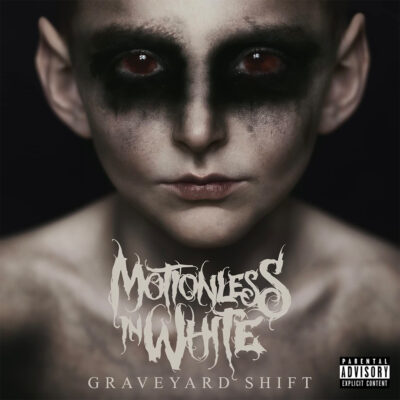 You only have one chance to make your first album, and you certainly only have one to create a debut via a huge conglomerate, especially in the current musical climate. Motionless in White released their first three LPs on Fearless Records between 2010-2014. After the success of said trifecta, and particularly "Reincarnate," their last for Fearless, Motionless in White looked for whiter pastures and signed with Roadrunner Records, which is the current home to truly huge rock acts Coheed and Cambria, Turnstile, Gojira, and Seal, and the band has released three records there as of now as well. Sadly, their first for Roadrunner is "Graveyard Shift," which is good, but as we know, good is the enemy of great. Still, they climbed the ladder with their two follow-ups.
Play it again: "Eternally Yours"
Skip it: LOUD (Fuck It)
5. Creatures (2010)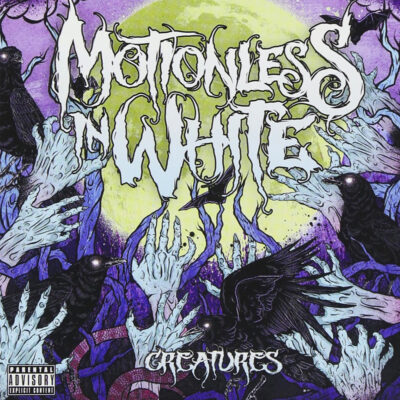 It seems like every album in the early to mid-2010s with a healthy yet caloric combination of growling and saccharine was produced by Florida man, but not "Florida Man," Andrew Wade, and if you want proof, go to his Wikipedia page, and quickly count his production credits from 2010-2014, which include his boyz in A Day To Remember, the girlz in Eyes Set to Kill, the nu-metal dancers in Issues, and hardcore act Bachman-Turner Overdrive; spoiler alert, you can't count that high and we have proof because you're reading this. Anyway, "Creatures" is a hell of a debut, but an immaculate misconception is that it is MIW's finest. It's not, and we hope that that hypothesis perishes; it dies today. Debuting at #6 on the Billboard Heatseeker Chart is no small feat, especially given that it was the band's first LP, so let's give the band Winona Ryder's designer clothes.
Play it again: "Abigail"
Skip it: ".Com Pt. II"
4. Disguise (2019)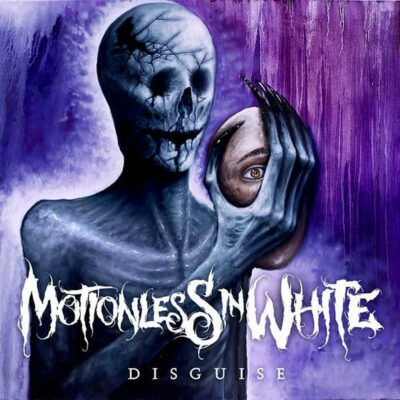 Broadcasting from Earth's core: "Disguise" is Motionless in White's sophomore and second-best Roadrunner Records release. It's a great listen front to back and contains their biggest publicly streamed song on Spotify with "Another Life," which at present day contains 143,538,421 listens, supplanting the band's legacy in heavy rock and roll forever, and unintentionally means a better existence thanks to a mega improvement from its predecessor, "Graveyard Shift." We know that you MIW haters are grasping for straws, holding onto smoke, and are soaked in a headache with a brand new numb after hearing this stat, but we implore you to suck it and/or bow down to the blank colored lack of movement. Fun fact, the 2021 Special Edition version of "Disguise," which came out two years after the original version was released, contains a sick, sick, sick cover of The Killers' new-wave manifesto "Somebody Told Me".
Play it again: "Another Life"
Skip it: "Legacy"
3. Reincarnate (2014)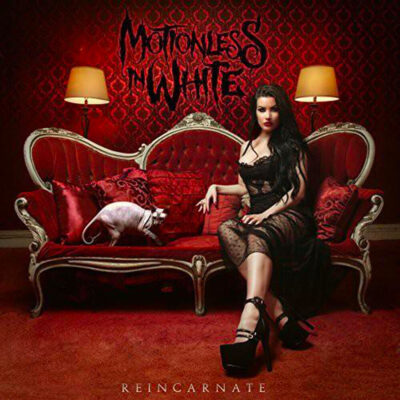 Opening "Reincarnate" with one of the band's better songs known as "Death March" showcased that Motionless in White was not a makeup wearing, silly, solely image-based unsubstantive act sans quality. Not. By. A. Longshot. Furthermore, the album's producer Dan Korneff really brought out the best in the group in every which way. In addition, this particular MIW record had features from Dani Filth of Cradle of Filth, Maria Brink of In This Moment, Dessa Poljak of Silencio, and black metal king The Big Bopper. In closing, this record debuted at #1, yes #1, on Billboard's Rock album charts.
Play it again: "Death March"
Skip it: "Wasp"
2. Infamous (2012)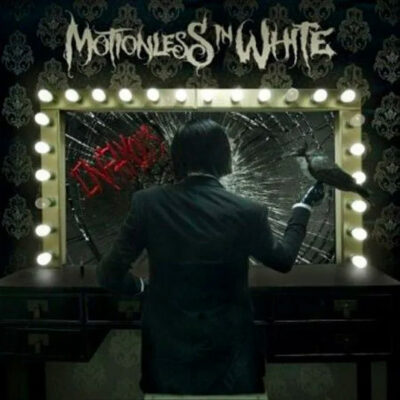 "Infamous," Motionless in White's second full-length LP, is FAR from a sophomore slump, likely your favorite MIW album, famous, and is also Fearless Records' most superior MIW release. If you thought that MIW was too metalcore, crabcore, hardcore, or coral with their debut "Creatures," this one is an abandonment of said four genres and hearkens more to the "Family Values Tour" than "Warped Tour" in the best way; we still truly love Warped, families, Ozzfest, and Lilith Fair. Now let's get to the end, which is literally the end of the world; wear a life jacket with garlic to protect you from the vampires that are literally everywhere.
Play it again: "Devil's Night"
Skip it: "The Divine Infection"
1. Scoring the End of the World (2022)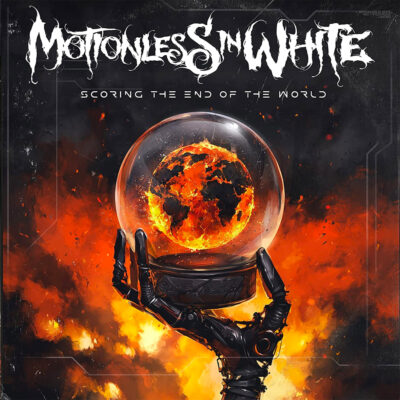 We must admit that it is extremely rare for ANY band with a six album catalog or more to peak with their newest effort, as fans typically vouch for an act's debut no matter how low quality it is and by any means necessary, but "Scoring The End Of The World" inarguably takes the gold medal spot here, and thus we list no "skip it" tracks below; non-hollow points. 2022 was a great and underrated year for rock, not you, red, werewolves, white, Motionless in White, and Vengaboys' legacy which contains the sterling chorus that tells its fans, "Boom, boom, boom, boom, I want you in my room." What's craziest about this album is that Motionless in White is now officially a mainstream rock band, pissing off For Today yesterday, err, today, and tomorrow.
Play it again: All of it, yes all of it
Skip it: Dying