A Fire Inside has been going strong for thirty-plus years and has eleven full-lengths, various questionable and/or unquestionable haircuts, and several EPs/live records/compilations to speak for it. Easily one of our favorite bands without exaggeration to 100% completely and utterly subjectively rank albums for. AFI, with or without periods, started with humble beginnings, eventually signed with a major label, successfully debuted at number one on Billboard with our #5 entry, and still packs venues to an extremely loyal fanbase of lost souls this very day. Today's lesson: Catch a hot one, smile, then despair.
11. Answer That and Stay Fashionable (1995)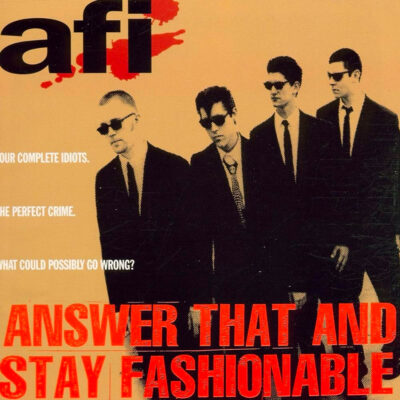 An oldie isn't always a goodie, but even "bad" AFI is good without quotes. We know, we gaffed and AFI's 1995 debut studio record "Answer That and Stay Fashionable" should be the number one ranked LP here, actually we can't even make it through this sentence without unsuccessfully asking our mom for permission to do so, gasping, laughing, falling down, and turning ill. While your favorite release is completely contingent on where you were in your respective life when you discovered the band, this album is a good intro to your friend and mine about a band with an expansive catalog, but that's about it.
Play it again: "I Wanna Get a Mohawk (But Mom Won't Let Me Get One)"
Skip it: "Kung-Fu Devil"
10. Shut Your Mouth and Open Your Eyes (1997)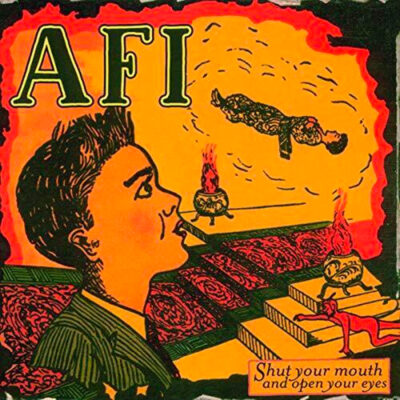 Northern California's AFI formed in 1991 and subsequently released four albums in the 1990s. In a predictable manner to us and a possibly unpredictable one to you, the first three records to come out are the first three to be mentioned in this piece; this fact that is an opinion will likely make you close your eyes and open your mouth, but honestly you should lower your head and take it in the body. However, this entry is actually their third full-length and the next one to be featured is their second, showing you, the avid reader, that we put some intricate and delicate thought into this here list. You're welcome; the devil loves you. Anyway, to add salt for your wounds, the best part about this one is the fantastic LP that directly followed it in 1999. More on that punk classic later!
Play it again: "A Single Second"
Skip it: "pH Low"
9. Very Proud of Ya (1996)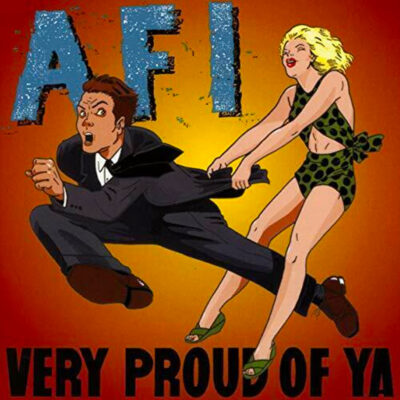 AFI's 1996's LP "Very Proud of Ya" is the band's sophomore release, and as a wake-up call to all of you misguided and bitter Despair Faction members, it's their best effort of the first three records; yep. While it admittedly has way too many songs, in fact, the most tracks on any of the band's total albums, the longest tune clocks at at two-minutes and forty-five seconds, so if you're not a fan of a particular entry, advances in modern technology would permit you to either skip or cruise control through it. Basically 1995-1997 were adolescent years for the group, and they finally hit their adult stride on the self-titled EP that came out one year later, but as you know, that is not technically an album, so if you're looking for its ranking here, think again, pleeb. To close this trilogy that isn't as good as "The Godfather" trilogy, but arguably better than part three, "Very Proud of Ya" is the last album from the band that wasn't truly consistent from its nascent start to its bitter end.
Play it again: "Advances in Modern Technology"
Skip it: "Shatty Fatmas"
8. Self-Titled (also referred to as The Blood Album) (2017)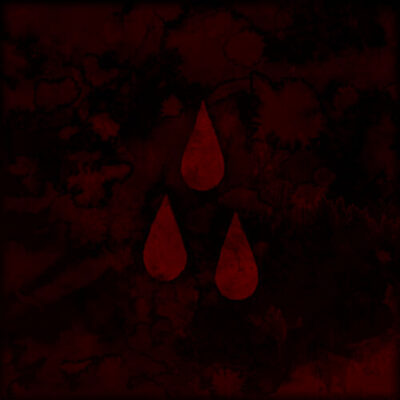 Self-titled records are often a combination or an inkling of a valiant return to form, a strategic back-to-basics vibe, and, to be quite frank, the lack of a good name suggestion for an album. While you can decide in the comments which of these AFI's 2017 LP actually is or isn't, and we know that you dumb kids actually will, one thing's for sure, the blood on this record literally runs thick, and there is a plethora of sonic influences over the course of its fourteen tracks. That is definitely not a bad thing, but the other seven records just did it better. We're gonna end this section with an Easter Egg from the extremely serious and rarely comedic group known as A Fire Inside: AFI has a song on "The BLOOD Album" called "Above the Bridge" and Red Hot Chili Peppers have a song called "Under The Bridge" on their blockbuster "BLOOD Sugar Sex Magik" record. Woah! California!
Play it again: "Snow Cats"
Skip it: "White Offerings"
7. Bodies (2021)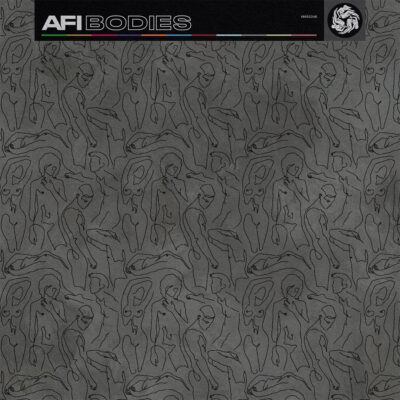 In an effort to showcase a huge case of low-hanging and possibly spoiled fruit, Drowning Pool did it first in their megahit butt-rock single twenty years before 2021's AFI record "Bodies," but this most recent album effort from the band with three letters as its band name is the first of two one-word albums starting with the letter "B" to be sequentially listed here. Speaking of the letter "B," one more five-word album from the band to be mentioned later also starts with "B" and it is a bodacious entry at that! Back to "Bodies," this record is the group's shortest album of their career to be released after 1997, and truly, truly leaves the listener wanting more, which is good or bad depending on who is writing an album ranking article for your twisted tongues. We'll check out your blog later and subsequently toast to the band's next eleven LPs!
Play it again: "Dulceria"
Skip it: "Back From The Flesh"
6. Burials (2013)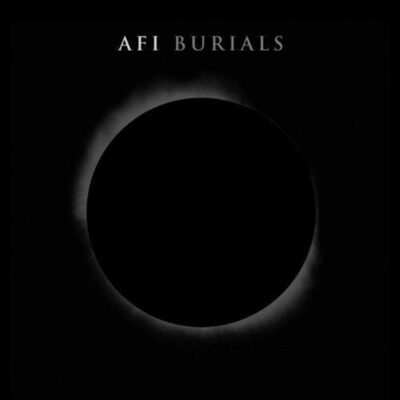 Gil Norton produced several rad and sonically perfect LPs for Foo Fighters, Jimmy Eat World, Pixies, Echo & the Bunnymen, and many, many more bands that even your anxious and bitter punk rock hearts secretly and not-so-secretly love. Gil sat behind the boards for 2013's "Burials," and along with the number two entry in this article is one of the more underrated AFI albums in their expansive catalog, and it won't likely start a deep slow panic to admit that the record is definitely the most unappreciated one to be listed thus far. Wild! Last words of the runaway: "Burials" is as dark as its album title suggests, and so, so much catchier than most bands could ever hope to be in or around the scene. Our hope for forgiveness dies.
Play it again: "I Hope You Suffer"
Skip it: "Wild"
5. Decemberunderground (2006)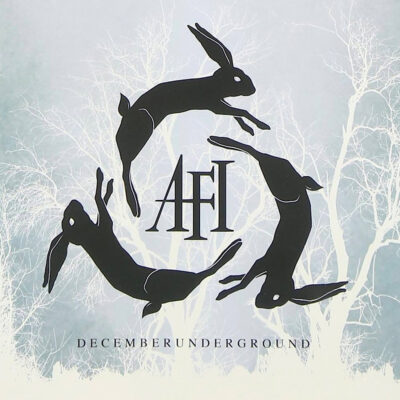 Here's a true summer shudder to all of you fools about a cold (love-like) Winter album title: You're so right, this one should at the very least be a medal winner in the golden #1, silver #2, or bronze #3 slot in this piece, but we're not apologizing as your negative comments light a fire inside. Sorry not sorry: Number five is what it is and we're the final word on a piece that we write. Yep. Still, 2016's "Decemberunderground" really rips, and it likely introduced many to the four-piece known as AFI; much respect. It's also badass that this record topped the album charts, and it's even cooler that seventeen years after the album came out, "Miss Murder" STILL gets constant radio love to the masses. Simply a look can break your heart.
Play it again: "Prelude 12/21"
Skip it: "37mm"
4. Black Sails in the Sunset (1999)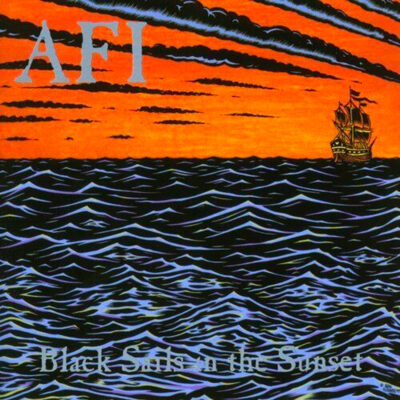 Ranks 11-9 are the band's first three albums from the 90s, and 8-5 are all from this century, so how did we do so far? Answer that and… yeah, no. 1999's "Black Sails in the Sunset" is the last album of the 20th century to be mentioned in this piece, and the songs still truly hold up today! Who knew? Bad Religion certainly doesn't hold a monopoly on chanting, and AFI opens this record up by discussing our album rankings in this article by shouting, "Through our bleeding we are four! Through our bleeding we are four!" At a glance, this hilarious joke references its fourth slot position, and the actual number of people in the raucous and revered rock-and-roll band AFI. Say the titles of tracks 2-4 on this record out loud three times fast and jump down to the next section!
Play it again: "God Called in Sick Today" and then fast forward to the bonus track "Midnight Sun"; what came forth from the remains?
Skip it: "At A Glance"
3. The Art of Drowning (2000)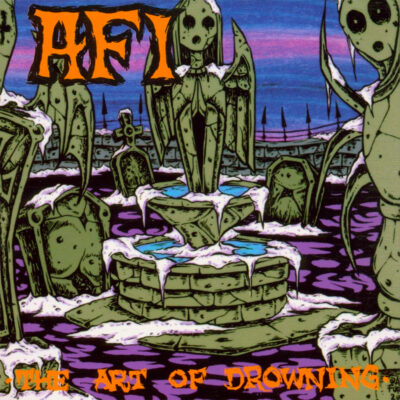 AFI kicked off this century with "The Art of Drowning" on September 19, 2000, and the punk world hasn't been the same in the best way since. This LP is the band's last album to be solely released on Dexter "The singer and the guitarist for The Offspring and a licensed pilot who has a doctorate in molecular biology and who wrote 'Original Prankster' in case you forgot" Holland's Nitro Records before inking a deal with the now-defunct DreamWorks Records, which eventually folded into Geffen Records and later merged into the Interscope Geffen A&M Records group. That's a mouthful of greetings and goodbyes. Two albums before the group's eventual #1 slot on Billboard (and #5 slot over here), this record is their first to chart in the top 200, providing the charts with an initiation for the lost souls. SMILE!
Play it again: "Morningstar "
Skip it: "Catch a Hot One"
2. Crash Love (2009)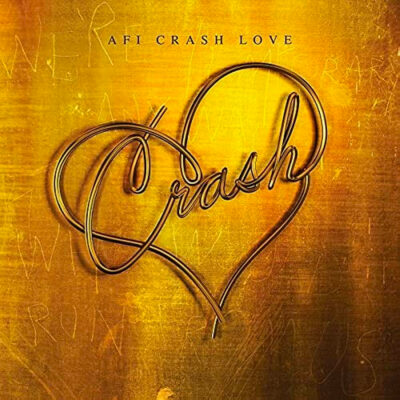 This may ruffle some feathers, rather, this may (and this is foreshadowing to the #1 spot below) modify various makeshift wings, but we don't do this for your (crash) love; we solely do it for your bitter non-beautiful comments, dorks. As we mentioned and alluded to in the handy-dandy "Burials" section a mere four positions above, 2009's "Crash Love" may just be AFI's most underrated album, and your anger on this position proves said opinion as fact. SACRILEGE! If this truly offends you, just medicate, and then you will say, "Okay, I feel better now." Anyway, "Crash Love" is the band's last album since "The Art of Drowning" to have less than three singles, which successfully proved that the fourpiece's label ended transmission and gave up on this one way too soon, which is a shame given how flawless it is. If you had a chance to see AFI open for Green Day on this record's (and GD's also underrated "21st Century Breakdown" LP's) cycle, throw your arms into the sky!
Play it again: "End Transmission"
Skip it: This is the first of two "skip it" sections to recommend that you don't in fact "skip shit"
1. Sing the Sorrow (2003)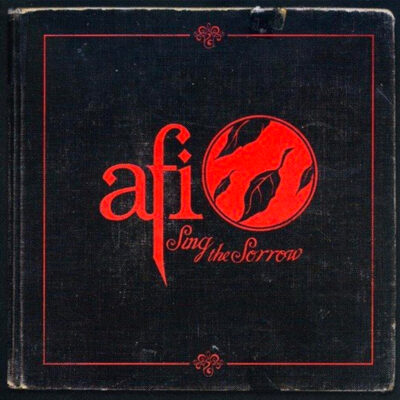 This time imperfect: We know that millions of diehard AFI fans will flock to read these rankings, but even hardcore and misguided '90s AFI indie label fans have to legally admit that this major-label debut is the band's most superior album front-to-back. You can't be mad at this placement, but you will be! Come. On. Now. The band's eventual platinum-selling and perfect sans any filler LP "Sing the Sorrow" hit stores/MTV/radio/random cool supermarkets and head shops in March of 2003, and successfully found a way to unite both a plethora of old and new fans of the group, being FAR from a great disappointment. This celluloid dream is extremely rare when bands make a jump to the big leagues, and you've gotta give the band mad props for doing so.
Play it again: The whole thing front-to-back
Skip it: It would be a great disappointment if you skipped any songs from this record