Spring is finally in full bloom and combat boots are the hottest trend of the season. Here are 10 styles of combat boots that are sure to get you laid.
Classic Black Dr. Martens

A punk fashion staple and German Military WWII Uniform requirement, these sexy Doc Martens can be worn with any springtime dress. Step aside Dr. Klaus Martën, the alternative crowd is reclaiming this iconic look! Pair these with any dress and your lover is sure to swoon.
Over-the-Knee Combat Boots
Are your legs ashier than Grandma? No worries! This over-the-knee look conceals your disgusting flaky skin that would otherwise blind any admirers of your outfit. These thigh-high boots are hot, sexy, and seductive without showing off too much ankle action. These combat boots come in jet-black with extra shoelace grommets for shin ventilation and an added industrial look!
Leather Platform Boots
A pump, a platform shoe, and a combat boot all rolled into one sexy set of leather panty-droppers. No matter your height, these boots help show off your beauty from head to toe. With a six-inch heel, these kicks can give you a vertical boost to smooch that extra hunky, extra tall lover of yours. Or Bigfoot. He's like 6'7", I think. Either way, you'll be able to give them a kiss on the lips.
Red Plaid Boots
For all your kilty pleasures.
Chunky Buckle Boots
It's no secret that buckles are coming back in a big way. These leather boots exude raw sex appeal by incorporating the most erotic part of a pilgrims hat into your everyday look. With these sexy black boots, you will have a great night out with the extra security that comes with a backup to your flimsy inferior shoelaces.
Jelly Clear Boots
Everyone can agree on one thing. The worst part about wearing boots is having to hide your top ten sexiest money makers. With these revolutionary shoes, you will no longer need to choose between the practical lifestyle of sturdy boots and the glamorous life of the foot slut you clearly are. Put your beautiful toes on display for the world with these haute boots!
Chunkier Boots with Even More Buckles

What's sexier than a boot with buckles?! A boot with even more buckles! With aluminum grommets galore and a three-inch platform, these bad boys can be styled with anything. These six buckles will blow your socks right off your supple, delicate feet. Are you seeing this shit? Six. Buckles. Absolutely incredible.
White Lace Boots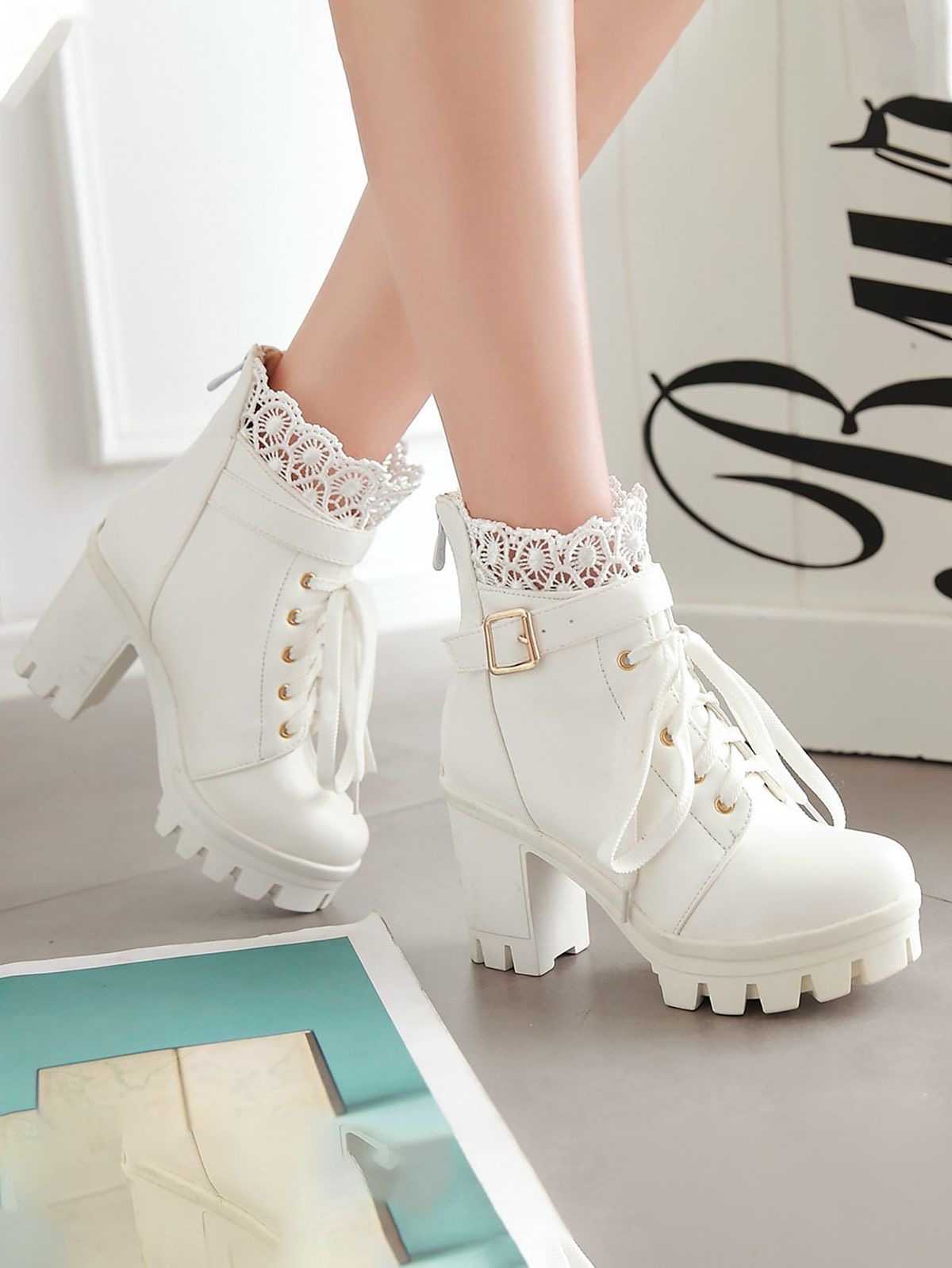 Let your delicate side free with these stunning lace boots. Match these with your finest handkerchief to show your suitor that you're classy, elegant, and ready to get railed like a Victorian woman after the bubonic plague.
Chunkiest Boots with the Most Buckles
Holy shit! I am physically shaking and foaming at the mouth as I am so overwhelmed with the sheer number of buckles on these shoes. This number of buckles will be sure to give you the power of eight men all wearing one-buckled shoes. You'll be the one doing the railing around here when you're wearing these empowering boots.
Pink Valentine Boots
Adorned with saucy valentines sayings, these pretty pink boots can turn on any suitor. Show the world that you're fully prepared to embrace your sexuality right here, right now in this Payless ShoeSource Parking lot. Some may argue that these technically aren't combat boots, but they're definitely horny enough to get you laid.
Purple Yin Yang Boot

s
What's an easier way of saying, "I'm DTF and have literally no idea what Taoism is" than these spunky Yin Yang boots? Match your sleazy white uncle's bicep tattoo with the symbol of inner peace, or something like that. Comfortable, sturdy, and bold, these boots can proudly show off your favorite wingding character.