As we get set to revisit the world of "The Sopranos" with the prequel movie "The Many Saints of Newark," we decided to take a look back at the lesser-known cast of characters that fleshed out the North Jersey mob. You know Tony, Christopher, Silvio, Paulie Walnuts and Big Pussy, but do you remember these wiseguys?
Kristof Maccaviti
After falling out of favor with his uncle Tony due to a botched hijacking of a Kitchen Aid mixer delivery, Christopher Moltisanti devised a serum he called "cool juice" to alter his DNA, transforming him from the temperamental, drug-addicted Christopher into the ultra-smooth Kristof for just one episode.
Watony
Following the untimely death of actress Nancy Marchand, "Sopranos" creator David Chase hastily developed this new arch-enemy for Tony Soprano to fill the hole left by the loss of his evil mother Livia. Viewers revolted, however, and the Watony character was killed when the pig statue above Satriale's fell on his head.
"Papa John" Schnatter
The real-life Papa John's Pizza founder played himself in a season 2 episode after opening a restaurant near the Bada Bing strip club. However, Schnatter proved to be too racist even for the notoriously problematic Soprano crew, and the character was found dead in his own pizza oven by New Jersey State Police.
Big Mouth Billy Bass
The animatronic novelty fish appeared in multiple episodes, often the target of Tony's rage due to its similarity to a prophetic dream he had about friend-turned-informant Big Pussy. But his most memorable appearance came in a season 6 episode wherein he scammed the hapless Artie Bucco out of $20,000 in a counterfeit pasta sauce scheme.
DJ $hoot Yo Azz
Oh, god, remember every time the show tried to feature a character who was in the world of hip-hop, and they had some stupid name or talked in every cliche in the book and were a borderline racist charcature? Yeesh.
Mafioso La Cosa Nostra
Every appearance of this season one character, a stereotypical aging mob boss who spoke broken English and was playing both sides of the Junior/Tony scuffle, was often accompanied by a low-key violin score and seated at a candlelit table. Allegedly, HBO execs demanded the inclusion of the character after every scene of Meadow Soprano talking about going to college or whatever so viewers would remember they were actually watching a show about the mafia.
The Magnificent Magooz
This floating orange alien from the planet Ooloo, who only Tony could see, was added during the 5th season. Magooz, who called Tony "dingbat," had the power to make all of Tony's wishes come true, but often with ironic consequences.
The goat who was friends with Pie-O-My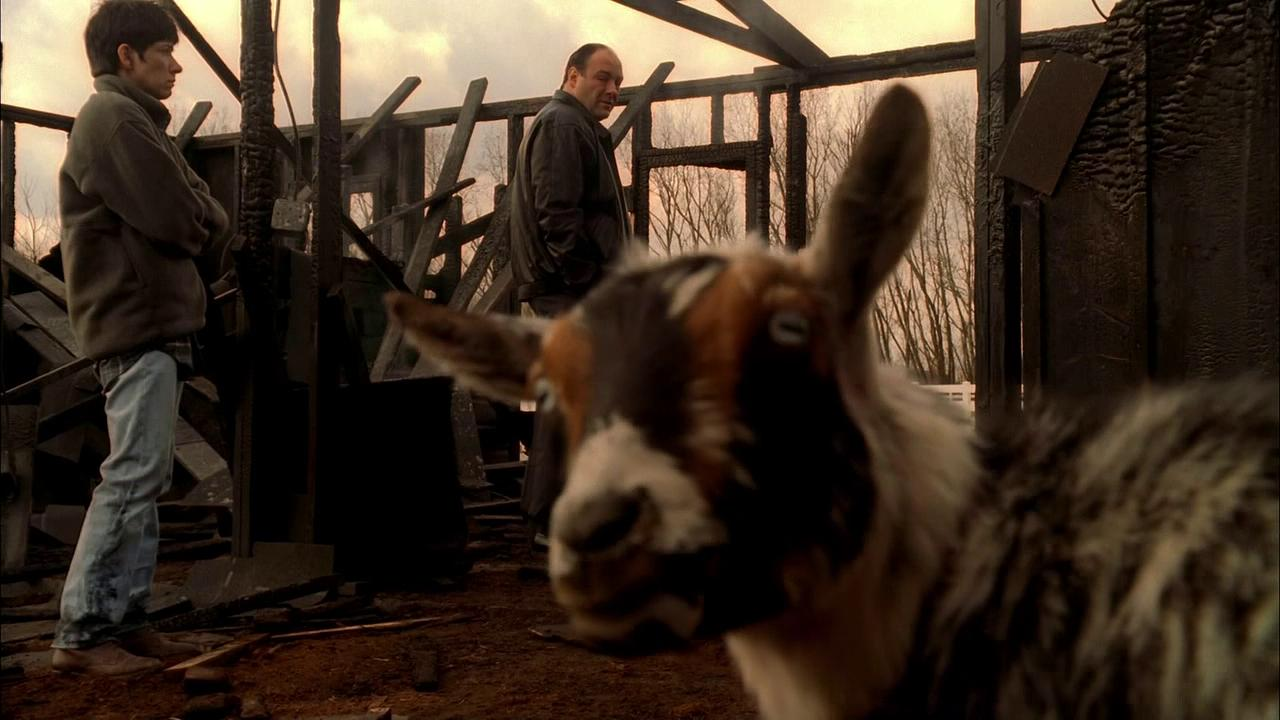 A little-known extra on the season 4 DVD release features a day in the life of Knuckles, the goat who lived at the stables with Ralph Cifaretto's racehorse Pie-O-My. Knuckles is stolen by a group of drunken frat boys from Rutgers, but teaches them a valuable lesson on respecting others' property, before returning to find Ralph had burnt down the stables. Also, the goat can talk.
Optimus Prime
Sure, he didn't transform and never talked, but creator David Chase has confirmed that the truck Brendan Filone and Christopher Moltisanti hijack in season 1the noble Autobot leader.
9/11 and the death of America's innocence
Though these characters didn't make an appearance until season 4, they've left the biggest mark on society by far. Plus, it gave the show's characters a whole new group of people to be unrepentantly racist toward.