If you don't know who Yung Lean is I suggest you come out from under your rock and check out the YouTube rap sensation that started the viral Sad Boys movement.
Every Sad Boy loves the Arizona-drinking, cough syrup-sipping, Swedish rapper with the trippy lyrics, but nobody knew just how far he was going to push lean rap. Sources close to the Sad Boys frontman say he has been leaning at more and more extreme angles every day and it's starting to turn heads.
That's right, Yung Lean is almost at a 45° angle these days. A number basically unheard of in hip-hop, now everyone is looking at the 20-year-old rapper like, "WHUUUU?"
From the very beginning of lean rap, people have been pushing the genre to the limits, trying to be the most, "leaned out." We thought the genre peaked after Cody Crazy performed, "Oblique Lines" at the 2015 Nickelodeon Kid's Choice Awards while leaning at a 62° angle, but it's been proven he was using wires.
Related: Inspiring: This Frat Logged Hundreds of Community Service Hours, but Let's Not Focus on Why
BUSTED.
SO…
If the rumors are true, Yung Lean is setting the current record. A lot of vets in the scene are P-I-S-S-E-D with the rookie's flagrant display of horizontal-ism and they are throwing serious shade:
"Hey kids, Can we say GIMMICK? 45 degrees my ass, y'all forgot the music" Tweeted radio host and DJ "Purple Rancher"
Yung Lean is NOT shook by the criticism of his posture, epicly tweeting: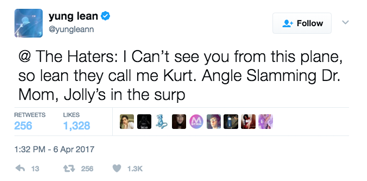 WOAH. SHOTS FIRED.
What angle do you find most appropriate for leaning? Let us know in the comments below!