MAR-A-LAGO – In direct response to fired FBI Director James B. Comey addressing the Senate Intelligence Committee, President Trump said Tuesday that he would be "one hundred percent" willing to talk Underoath.
Trump, who has been under heavy scrutiny since his firing of Comey, answered several questions from the press with caustic tone. Senior white house officials confirmed Comey's willingness to talk Underoath irked the President, leaving him to coyly accuse Comey of perjury.
"Yesterday showed no collusion," Trump said in a news conference with the visiting Romanian president, Klaus Iohannis. "I don't listen to that sort of thing."
However, Comey's opening statements directly contradict the President.
"I met with the President and his council on Tuesday, February 14th in his mom's forest green Jetta. The President said he had to bring the car back by midnight, so he needed to drop Mike Pence, Jared Kushner, and CIA Director Mike Pompeo off at home. Once they had left the car, the President turned to me and said 'I need breakdowns, I expect breakdowns' before putting on 'A Boy Brushed Red Living in Black and White.' I didn't move, speak, or change my facial expression in any way during the awkward silence that followed."
Related:
Comey claims that his nine overall interactions with Trump prove the President is a fan of mall metal, weird Jesus hardcore, and other forms of scene garbage music –– adding that his detailed memos attest to such.
"I didn't say that," Mr. Trump said of the insistence that he put on They're Only Chasing Safety, but that, "there would be nothing wrong if I did say it."
Trump's new readiness to talk Underoath is a stark contrast to several tweets Trump made since the May firing, including the infamous tape tweet.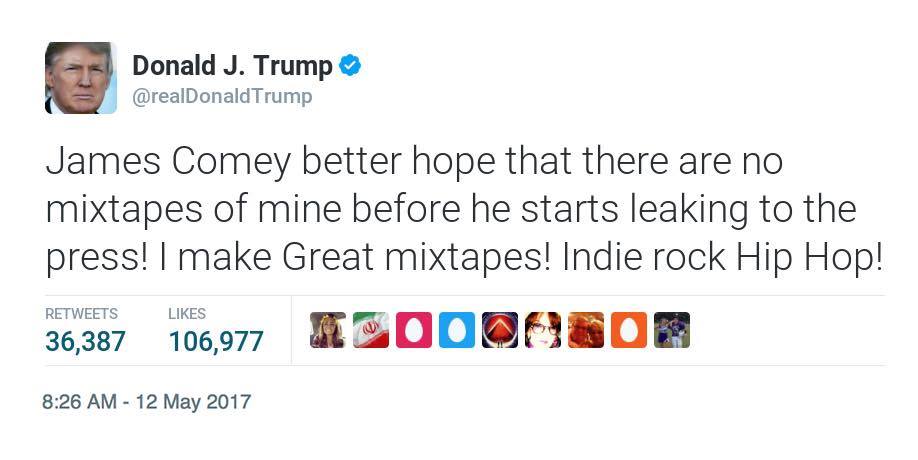 ​"Oh Lordy, I hope there's a mixtape," Comey said, "Who didn't listen to embarrassing music in 2004? Why is this an issue?"
It is unknown at this time when Trump plans to talk Underøath, but it seems unlikely the President will be in Washington soon with festival season now in full swing. Trump's testimony will be a key moment of this investigation since Attorney General Jeff Sessions had to recuse himself from talking Underøath because he quote "is really tite with their bassist."
"The president is so thin-skinned and insecure that he feels the need to lie to the people of the world about the littlest things," added Comey in his closing statements. "He is a cowardly man who will look you in the eye and say 'I've never had a Chiodos phase' even though he still flat irons his hair."
Want to show your support for The Hard Times? Pick up a shirt today. 
Article by Drew Kaufman @DrewIsAlright. Photo by Chip Somodevilla / Staff